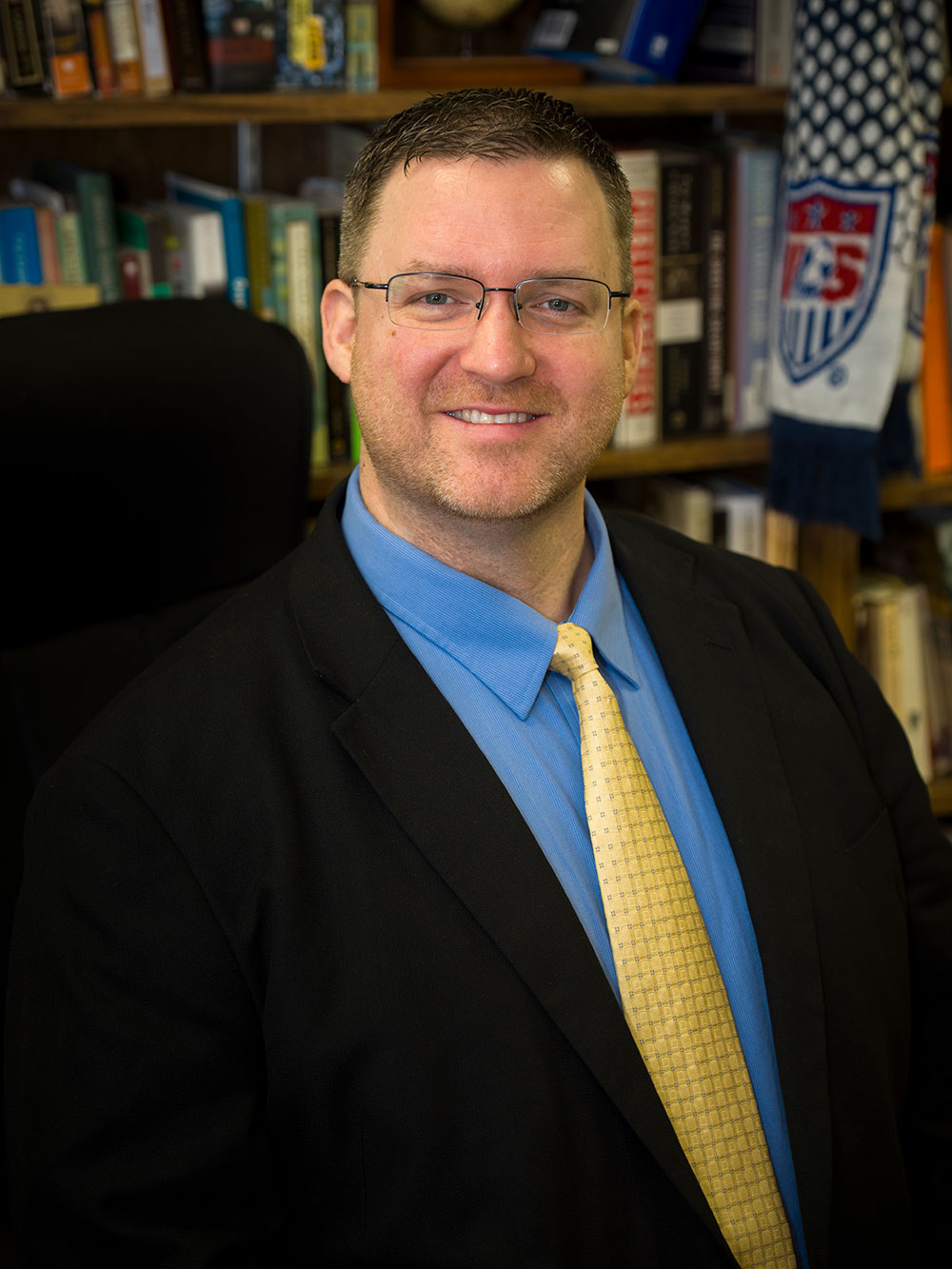 Dr. Daniel Spillman
Associate Professor of History
Biography
Daniel Spillman joined OBU as an Associate Professor of History in August 2017. Prior to OBU, he served as Associate Professor of History and Chair of the History Department at Williams Baptist College in Arkansas. He earned degrees in history from Asbury University (B.A.), Kent State University (M.A.), and Emory University (Ph.D.). 
Dr. Spillman's research and teaching interests include American religious, political, and cultural history in the 20th century. His current research project examines the history of American fundamentalism in the Sunbelt region during the 1920s and 1930s. His PhD dissertation at Emory University focused on the role of 1960s-era conservative youth on the development of post-war conservative thought. 
He loves spending time with his wife, Teri, and traveling as often as possible, especially in Europe. His favorite writers include C.S. Lewis, Dallas Willard, Wallace Stegner, Erik Larson, and David McCullough. He enjoys cheering for the US national soccer teams and reading 20th century British detective fiction. 
Dr. Spillman loves teaching history, and he is excited to be part of the OBU community.
Education
B.A., Asbury University 

M.A., Kent State University

Ph.D., Emory University
Courses Taught
Hist 1013: US History to 1877

Hist 2013: European Civilization 

Hist 4223: Civil War and Reconstruction, 1848-1877
Publications and Presentations
Invited Speaker, "Holy War in the Delta: The Jonesboro Church Wars and American Fundamentalism in the Great Depression," at the Northeast Arkansas Regional Archive, Powhatan, Arkansas, August 20, 2016.
Review, Quaker Brotherhood: Interracial Activism and the American Friends Service Committee, 1917-1950, by Allan W. Austin, in Fides et Historia (Summer/Fall 2014). 
Contributing Writer, "The Triumph of the Right," in The American Yawp Textbook, edited by Ben Wright and Joseph Locke, www.AmericanYawp.com (2014). 
"The Sharon Statement Launches Young Americans for Freedom (1960)," in Encyclopedia of American Reform Movements, edited by John R. McKivigan and Heather L. Kaufman (Facts on File: Library of American History Series, 2010). 
"'He Spoke to the People': Young Conservative Intellectuals, Ronald Reagan, and the Republican Presidential Primaries in 1976," Presented at the Annual Meeting for the American Historical Association, San Diego, January 8, 2010.
"Student Conservatives," in Encyclopedia of the Culture Wars: Issues, Voices, and Viewpoints, edited by Roger Chapman (Armonk, N.Y.: M.E. Sharpe, 2009). 
"A Serviceable Alternative: Student Conservative Writers at Indiana University, 1967-1970," Presented at the Graduate Center of the City University of New York, Comparative Discussion on 'Rightist' Movements Conference, March 13, 2008.
Memberships
American Historical Association

Arkansas Historical Association

Conference on Faith and History

Organization of American Historians