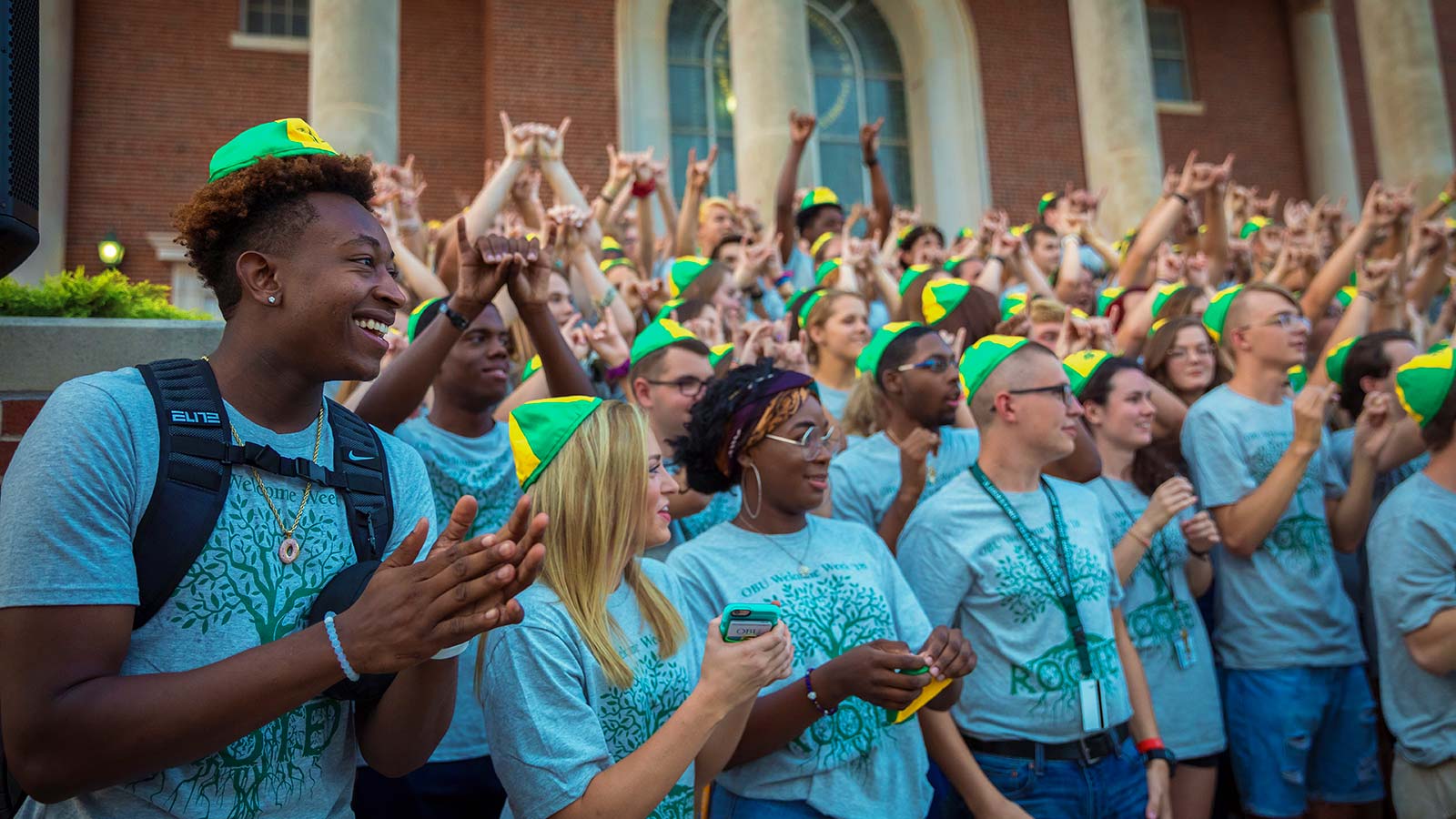 Location
Shawnee, Oklahoma -- 35 miles east of Oklahoma City, 90 miles from Tulsa, and 200 miles from Dallas/Fort Worth -- map
Founded
1910 by the Baptist General Convention of Oklahoma
Campus
226 acres, 34 major buildings
Areas of Study
Ten bachelor's degrees in 88 areas of study.
Four master's degrees, business administration, nursing, Christian studies and marriage and family therapy offered at OBU School of Graduate and Professional Studies, 3800 May Ave., Oklahoma City.
President
Dr. David Wesley Whitlock, a native Oklahoman, is OBU's 15th president.
Enrollment
2,073 from 40 states and 35 other countries (Fall 2016)
Faculty
117 faculty members. All are active Christians.
Student to Faculty Ratio
15:1
2016-17 Tuition, Room, Board and Fees (Fall and Spring semesters combined, full-time student)
$33,990
2016-17
$32,320
Financial Aid
100 percent of OBU students receive some type of aid.
Governance
OBU is governed by a 31 member Board of Trustees comprised of ministers, business leaders and members of the various Baptist churches throughout Oklahoma. Each trustee serves a three (3) year term on the Board of Trustees.
Accreditation
OBU is accredited by:
North Central Association of Colleges and Secondary Schools
230 South LaSalle Street, Suite 7-500
Chicago, IL 60604
800.621.7440
Association of Collegiate Business Schools and Programs
National Association of Schools of Music
Commission on Collegiate Business Schools and Programs

Council for the Accreditation of Educator Preparation

Office of Education Quality and Accountability
OBU Memberships
American Association of Colleges for Teacher Education
Association for Computing Machinery
Association of College Administration Professionals
Association of Independent Liberal Arts
Colleges for Teacher Education
Consortium for Global Education
Council for Christian Colleges and Universities
Council for Higher Education Accreditation
Council for Advancement and Support of Education
International Association of Baptist Colleges and Universities
International Reading Association
National Association of College and University Business Officers
National Association of Independent Colleges and Universities
National Association of Intercollegiate Athletics
Oklahoma Foundation for Excellence
Oklahoma Independent Colleges and Universities
Society for Research in Child Development
International Studies
Brazil, China, Europe, Japan, Mexico, Russia
Ministry Programs
OBU's Campus Ministry permeates the campus through discipleship, worship and ministry activities. In addition, students can serve in missions through the University's Avery T. Willis Center for Global Outreach.
OBU is the world's leading college in the number of alumni serving as missionaries with Southern Baptist' International Mission Board.
National Recognition
OBU has been rated as one of the top 10 regional colleges in the West by U.S. News and World Report for 25 consecutive years and has been Oklahoma's highest rated regional college in the U.S. News rankings for 23 consecutive years.
For the 12th consecutive year, OBU has been named one of the best colleges and universities in the western United States by The Princeton Review. OBU was one of 121 institutions recommended in the "Best in the West" section on the educational research firm's website.
OBU is one of three universities in Oklahoma and the only private Oklahoma university listed on Great Value College's rankings of 50 Great Affordable Colleges in the Midwest.
OBU consistently is ranked in the Forbes.com listing of "America's Best Colleges."
Annual Operating Budget
$72.6 million. (2016-17)
University Endowment
More than $116.7 million. (May 2016)
Athletics
OBU's Bison and Lady Bison student athletes compete in 21 varsity sports, including football, men's and women's basketball, cross country, golf, indoor track and field, outdoor track and field, soccer, swimming/diving, tennis, men's baseball, and women's softball, women's lacrosse and volleyball. Football returned to campus in fall 2013 for the first game since 1940.
OBU has a total of 27 National Championships: one for baseball, two for men's basketball, six for men's track and field, 11 for women's track and field, four for men's swimming and diving, and three for women's swimming and diving.
OBU is currently in year three of the NCAA Division II candidacy process, and competes within the NCAA and the Great American Conference throughout the 2016-17 season. During the process, OBU is not eligible for postseason competition within the NCAA but can participate in the National Christian College Athletic Association (NCCAA) championships.
For more information about athletics at OBU, visit www.obubison.com.
Intramurals
Approximately 800 students participate in over 30 intramural sports.
Mascot
"Shaz" the Bison
Alumni
OBU has more than 31,000 alumni and former students, who reside in all 50 states and more than 50 other countries.
Library Services
The Mabee Learning Center's collections of more than 212,000 bound volumes, 310,000 microform holdings, and more than 11,000 items of music scores, recordings, and other media, are accessed by more than 185,000 visits each year. The Media Center provides access to technologies necessary for listening to the multiple formats in the library collection, as well as iPads, projectors, and online streaming.
Information
Email: info@okbu.edu
OBU Switchboard Phone Number: 405-275-2850
News/Information Phone Number: 405-585-5401