Five OBU professors were installed into academic positions during the University's annual Convocation in August.
Endowed chairs and professorships are awarded to professors who have demonstrated exceptional ability in their academic disciplines.
Endowed positions are funded by gifts to the University which are specified for this purpose. The funds are then invested in the University's permanent endowment fund, and the annual earnings are used to assist with the chair or professorship's compensation.
Dr. James Vernon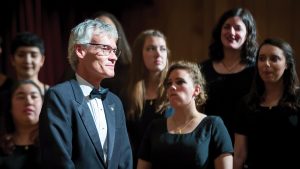 Professor of Music
Installed into the Burton H. Patterson Professorship in Music
Vernon earned a Bachelor of Arts from Old Dominion University in Norfolk, Virginia. Additionally, he earned a Master of Music and Doctor of Musical Arts from Southwestern Baptist Theological Seminary. He teaches courses in music composition, music theory and fine arts, and directs both the Bisonette Glee Club and the OBU music composition program. He has composed works for vocal idioms, instrumental, choral and a multitude of pieces for stage play productions as well as an opera. His work has been performed throughout the United States and in parts of Western Europe.
The Burton H. Patterson Professorship in Music is named for Burton H. Patterson, '56, an entrepreneur, attorney, educator and musician who has a longstanding relationship with OBU. He was licensed to practice law in Texas in 1959. He retired in 1999 as the senior partner of Patterson, Sargent and Glanville and incorporated The Foundation for the Advancement of Christianity. Patterson and his wife, Ginger, live in Texas.
Dr. Kaylene Barbe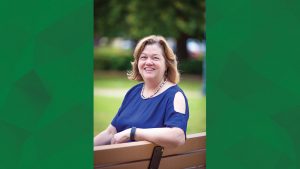 Professor of Communication Studies
Installed into the Frank W. Patterson Professorship in Communications
After graduating from Baylor University with a bachelor's degree, Barbe worked for a year as a legal secretary for an attorney. She later completed her Master of Arts and Ph.D. in Communications at the University of Oklahoma. Barbe likes to travel, hike, read, watch movies and work on home improvement projects, in addition to spending time with family and friends. She is an active member of University Baptist Church, volunteers for Family Promise in Shawnee and works with first through sixth grade GA's.
The Frank W. Patterson Professorship in Communications was established by Dr. and Mrs. Burton Patterson in honor of his father. Dr. Frank Patterson, '28, worked for the University Press while a student at OBU. After pastoring churches in Oklahoma and Arkansas, he was appointed for service at the Baptist Spanish Publishing House in El Paso, Texas, where he was the second general director and served for 33 years.
Dr. Louima Lilite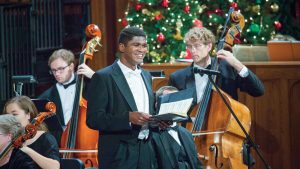 Associate Professor of Music Coordinator of Voice Studies
Installed into the McGavern-Montgomery Professorship in Music
Lilite earned a Bachelor of Music from Biola University Conservatory of Music, a Master of Music from Penn State University and a Doctor of Musical Arts from the prestigious Eastman School of Music. His OBU recognitions include the Distinguished Teaching Award, the Provost Award of Excellence and the Promising Teacher Award. Lilite is the Oklahoma District Governor of the National Association of Teachers of Singing and known as an accomplished recitalist and soloist, having taught and coached in the U.S. and overseas.
The McGavern-Montgomery Professorship in Music honors the memory of three individuals. Clair R. McGavern served as a member of the OBU music faculty from 1949-75. In 1974, he helped establish the Concerto-Aria Concert and in 2011 he was inducted into the OBU Faculty Hall of Fame. Ruth Clark McGavern was the wife of Clair McGavern. She taught piano at OBU until 1978.
Nancy Montgomery was a voice major at OBU and performed with the University's women's quartet. After graduation and teaching in various roles around the U.S., Montgomery returned to OBU in 1955 as assistant professor of music, teaching voice, music education and music appreciation.
Dr. John McWilliams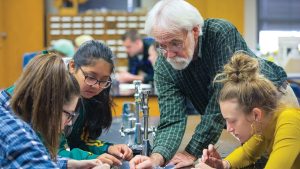 Professor of Natural Science
Installed into the W.B. Blackstock Family Chair in Science Education
McWilliams earned his Bachelor of Science, Master of Science and Ed.D. all at the University of Arkansas. For the past 20 years at OBU, he has supervised science education majors and taught the science content courses. He has been awarded the Distinguished Teaching Award and directs the OBU Planetarium. McWilliams has a passion for Christian apologetics, especially as it relates to science. In 2017, he published the novel "The Lights Over Middle Creek," a fiction-format that introduces and explores scriptural and apologetic concepts.
The W.B. Blackstock Family Chair in Science Education honors W.B. Blackstock, an oil man, and his wife Clara Mae, an elementary school teacher. Both have a long association with and interest in education at all levels. Blackstock was particularly interested in the natural world and many fields of science, thus his bequeathing of the W.B. Blackstock Family Chair of Science Education, an extension of his lifelong dedication to education.
Dr. Heath Thomas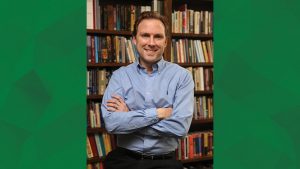 Dean, Hobbs College for Theology and Ministry
Associate Vice President for Church Relations Professor of Old Testament
Installed into the Floyd K. Clark Chair of Christian Leadership
Thomas holds a Bachelor of Arts in English from OBU, a Master of Arts from Southwestern Baptist Theological Seminary and a Ph.D. from the University of Gloucestershire. Prior to returning to OBU, he served as director of Ph.D. studies and associate professor of Old Testament and Hebrew at Southeastern Baptist Theological Seminary. Passionate about opening up the Scriptures, he preaches and teaches regularly. He sustains a recurring interest on the biblical books of Lamentations and the Minor Prophets, and has published a number of works related to these.
The Floyd K. Clark Chair of Christian Leadership was made possible when OBU alumnus Al Clark gifted resources for an endowed academic position in honor of his father, Floyd K. Clark. The gift recognizes Clark's commitment to providing educational opportunities through OBU to his sons. A native of Oklahoma, Floyd participated in the Normandy Invasion and served in Korea with the Oklahoma National Guard. Clark held many roles of service and leadership at Midwest City's Country Estates Baptist Church.