Dr. Bret Roark received the 2018 Distinguished Teaching Award during Spring Commencement in May. The award is the highest honor for OBU faculty members, presented annually to a professor who has taught at OBU for five consecutive years or more and has "distinguished himself or herself in the teaching profession over a period of several years as acknowledged by former students, peers and current students." Roark serves as professor of psychology, Ralph and Marie Barby Chair, and division chair for Behavioral and Social Sciences.
Dr. Bret Roark spent his earliest childhood years in McKinney, Texas. He came to Oklahoma during junior high, attending school in Midwest City and ultimately graduating from high school in Ponca City, where his father, Dr. Mack Roark, '58, professor emeritus of Bible, was pastor of First Baptist Church, Ponca City. In 1984, both came to OBU, Bret as a student and his father as vice president of religious life. The third generation to attend OBU, Bret went on to earn a bachelor's degree on Bison Hill in 1988 and both master's and doctoral degrees from Texas Tech.
Before finishing his doctorate, an opportunity arose for an assistant professor position at OBU.
"I want to express my deep appreciation to OBU Professor Emeritus Dr. Oscar Jeske for his role in starting my career at OBU," Roark said. "When I went to graduate school he kept track of me, and when an opening for a psychology professor became available, he reached out to me to see if I would be interested. Even though I still had coursework to complete in my graduate program, his efforts on my behalf allowed me to apply the following year."
Roark joined the faculty that fall as an assistant professor of psychology. He was grateful for the opportunity, as he knew teaching at OBU was a great fit for him.
"While in graduate school, I enjoyed my research assistantships, but even more rewarding were the teaching opportunities I had. From those experiences I knew that my goal was to work at an institution that emphasized teaching over research activity. I also knew firsthand the benefit of a Christian, liberal arts education, and so I was delighted by the opportunity to return and join the ranks of faculty here at OBU."
While Roark has been recognized with both the Promising Teacher Award and the Distinguished Teaching Award, he remains humble, seeking to continuously improve his craft while learning from and admiring the manner in which other professors instruct their students.
"It has been a pleasure and an honor to work with the colleagues I have here at OBU. So many great faculty members have been role models for me, and not just the ones who have gone before me. At every rank, OBU has faculty who inspire me and I know I am a better educator because of their influence."
Investing in Students to Transform Lives
In addition to the impact his colleages have made on his career, Roark credits another group on campus with affecting him deeply: the students.
"The vast majority of OBU students are eager to learn, willing to work hard and serious about the task of integrating their faith and discipline," he said. "Quality teaching is about challenging, shaping, guiding and influencing students to stretch their minds and hone their abilities. I've seen students who are too shy to speak up in class grow into competent professionals in their field. I've seen students' faces light up when they finally understand a difficult concept. I've seen students serve God in a variety of amazing ways. I consider my career at OBU incomplete because I want to see more of this for years to come."
Roark cherishes the time spent with students and is passionate about helping shape their lives and careers in positive ways, just as his professors did for him.
"Many of my favorite memories during my career are of my interactions with students. Whether it is the experiences we share at professional conferences or the times I have them over and we fellowship around the fire in my backyard, these moments with students are valuable to me because I consider it an honor to share in their lives."
Roark also has a clear vision for what he intends his students to learn as well as the knowledge he believes they value most from taking his courses.
"If you were to ask my students what are the three most important things I want them to learn, they would answer 'Define an interaction, identify the variables in a study and use APA format correctly.' Technically, they would be right because I do think that every psychology major should be able to do those things.
"However, the really important things to learn are things that we, all OBU faculty, teach collectively. I want my students to learn how to serve God in their chosen field with professionalism and integrity and how to care for others with compassion and empathy. It's sometimes difficult to get that across in a research methods class, so I'm thankful to work at a place where those concepts are built into the mission of the university."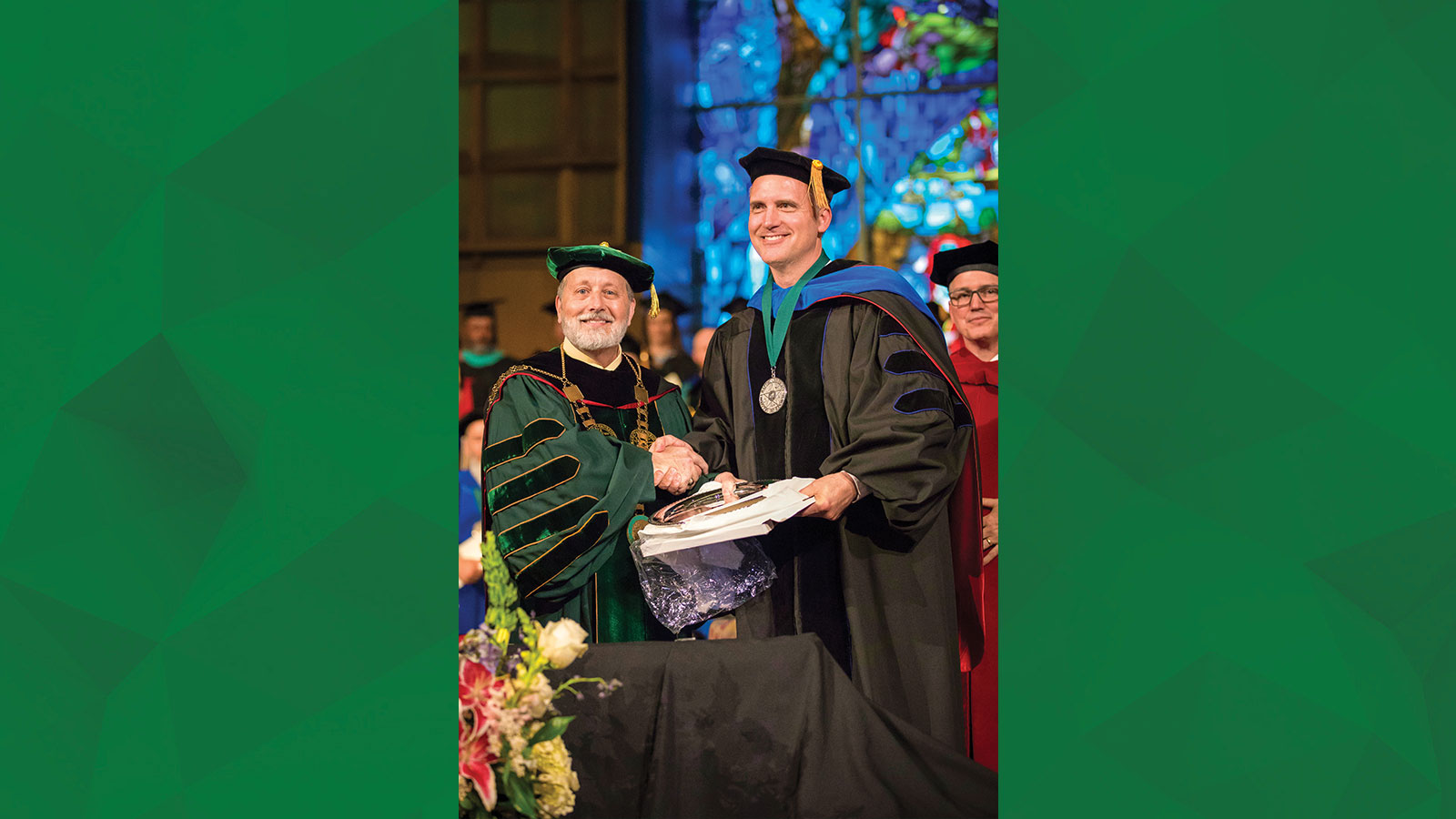 Distinguished Teaching Award
Not only is Roark a third generation Bison alumnus, but he is also a second-generation Distinguished Teaching Award winner, with his father receiving the honor in 1997.
"This is an immense honor. As I look at the names of past recipients, I find I am truly standing among giants, and the weight of being named with them creates, in my mind, a responsibility to live up to the honor I've been given. What stands out most are not the publications or professional accomplishments of past recipients, but the significant influence they had on the lives of their students. Of particular significance to me is that my father, OBU Professor Emeritus Dr. Mack Roark, is a past recipient of this award. He, more than any other person, has shaped my ideas of what distinguished teaching should look like."
One of his nominators wrote of Roark, "He is one of the most influential people in my career. As a student at OBU, I was challenged by him to pursue academic excellence and to dream big. As with all of his students, he unapologetically set the bar high for me, believing that I was capable of accomplishing great things."
A fellow faculty member said, "When I joined OBU as a faculty member, he not only welcomed me into the OBU faculty community, but provided invaluable mentorship from the beginning. My hope is that I will somehow inspire my students in the same way that he has inspired me."
Roark's dedication to teaching excellence extends beyond his undergraduate teaching duties. He is a faculty sponsor for the OBU chapter of Psi Chi, the International Honor Society in Psychology. He also teaches graduate courses in the Marriage and Family Therapy program as well as a course in the MBA graduate program. He is currently supervising 12 students conducting research projects and is providing supervision to the Psi Chi Research Team as they engage in their research project. Recently named chair of the Division of Behavioral and Social Sciences, he serves as chair-elect of Faculty Council.
When not teaching, he enjoys spending time with his family, including his granddaughter, Addison, who just turned one. Yet, he doesn't need to get away from work to see most of his family members. His wife, Radonna, is assistant professor of French at OBU and they have three children currently attending as fourth-generation Bison. Brianna is a senior early childhood and elementary education double major, Alyssa is a sophomore finance major and Brennan is a freshman management major.