God bless OBU.
These are the words that close our Alma Mater. If you are like me, the words bellow out every time you sing them. For me, they also serve as a prayer to God – would you continue to be faithful to Oklahoma Baptist University and pour out your blessings on faculty, staff, students, alumni and friends? Through the pages of this magazine, we hope you will encounter and experience the incredible ways in which God has remained faithful to his University in Shawnee, Oklahoma. You will read of the blessings from the vision and leadership of Dr. David Whitlock as the campus celebrates his 10th anniversary as president. The blessings of God will be evident through stories about world-class faculty who transform the lives of students as well as alumni who left Bison Hill to impact others around the world. God has blessed OBU through the faithfulness of alumni and friends to provide financial resources to support students in their campus engagement and faculty in their teaching and research.
Without question, the mission is most visible in the classrooms of the campus. Life transformation begins with the investment of faculty in students, continuing in the countless number of activities offered through student and spiritual life. We are confident of this work, even receiving some outstanding recognition for our commitment to the mission. You may have read that the Wall Street Journal ranked OBU the second best university (out of more than 900) in the entire nation for student engagement. This is a testimony and affirmation of what we already know to be true – student lives are transformed on Bison Hill to pursue academic excellence, integrate faith with all areas of knowledge, engage a diverse world, and live worthy of the high calling of God in Christ.
We continue to make great progress toward the Vision for the New Century Campaign 2.0 goals and objectives. The "hallelujah" goal of $60 million is well within sight with more than $52 million gifted as of this publication. In recent months, significant gifts have enabled OBU to renovate the first floor of the Geiger Center into the Dick and Sue Rader Office of Student Life and the Women of Vision Center for Spiritual Life, as well as renovate and purchase new furniture for Agee (Brotherhood) Residence Center.
See the architectural rendering for the proposed Student Services Center. Serving as a welcome center and grand entrance to the campus, the facility will be located immediately to the north of Raley Chapel. Every administrative function housed currently in Thurmond Hall – admissions, registrar, academic center, student financial aid, bursar, marketing and communications, business office and executive offices – will have a new home in the new building. Not only will the center serve as a one-stop-shop for current and prospective students and a welcome center for all campus visitors, the project allows OBU to clear out and renovate Thurmond for much-needed academic space including faculty offices, classrooms, and areas potentially for science, math and engineering laboratories.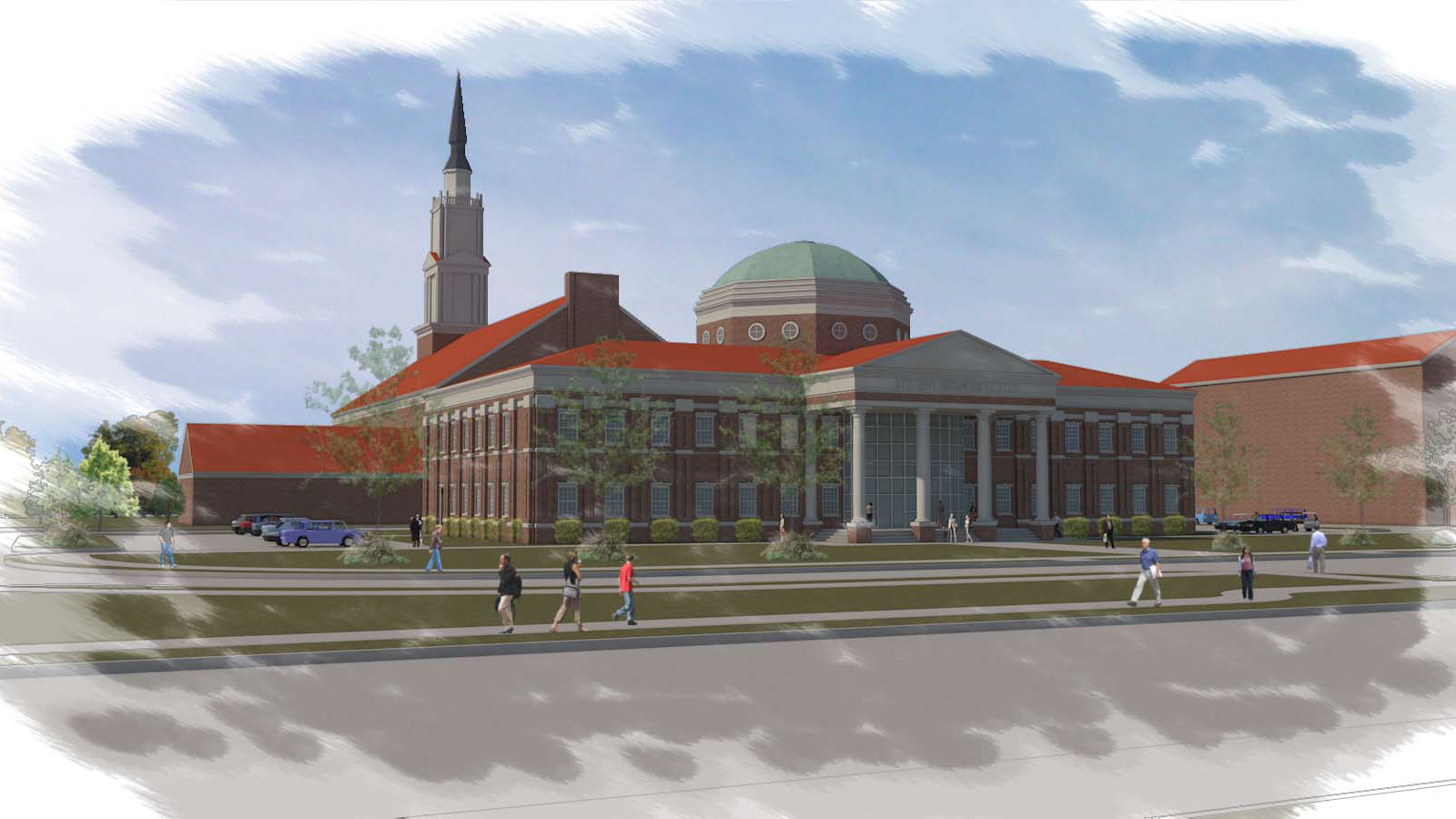 The Women of Vision philanthropic circle just completed its fourth annual meeting on campus in late September. With more than 100 women joining together to provide a gift of nearly $90,000, members voted to use the dollars raised to invest in three major projects: an admissions recruitment vehicle branded with an OBU wrap, safety phones on campus that dial 911 directly and a new endowed scholarship fund to be awarded annually. Women of Vision continue to make a transformational difference in the lives of students, and we are thankful for their faithful investment in tools that will help recruit new students to Bison Hill and award outstanding current students for their achievements.
Finally, on March 5, 2019, OBU will host the seventh annual Green and Gold Gala featuring Emmy award winning actor, producer and philanthropist Henry Winkler. For nearly 50 years, Winkler has been on our television and movie screens. But he is so much more. Married for more than 40 years – a rarity in Hollywood – and committed to serving others, Winkler spends much of his time championing the causes of young people with disabilities. Once again, this year's Gala will be a great night of celebrating the blessings of God at OBU.
For nearly 109 years, God has blessed Oklahoma Baptist University for its commitment as a distinctively Christian liberal arts university that prepares students, through the integration of faith and discipline, to be transformative servant-leaders and agents of change in their families, churches, workplaces and ultimately, throughout the world.
I hope you will join me in singing and praying the words of our Alma Mater: God bless OBU.
Student Services Center 
Serving as a grand entrance to the OBU campus, the Student Services Center will provide a beautiful first impression and an inviting welcome center for guests, prospective students and their families. The addition of this facility is another step forward in enhancing the services and appearance of the University.
Future Bison and their families will meet here with the admissions team to learn more about the OBU experience. Student financial services, registrar and bursar offices also located here will provide future Bison with convenient access to the services they need for enrollment.
Visiting groups will enjoy engaging video presentations in the theater to acquaint them with the history and community life of OBU as well as success stories of our graduates. Current students will discover this building demonstrates the university's continuing commitment to quality customer service by providing them easy access to essential services.
A gift to this project will leave a lasting mark on Bison Hill, helping build this critical facility for the University's growth and success. Those who provide financial support for the Student Services Center will make a profound difference on campus, touching the lives of thousands of future Bison and impacting generations to come. For giving opportunities, please visit okbu.edu/giving or email development@okbu.edu.