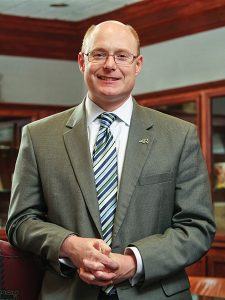 Why is it important to study business? How does that fit into
the University's mission?
The OBU mission calls us to engage a diverse world, and I don't know of a better way of doing that than through business. The entire world desires a better standard of living. When business is at its best, it creates products and services that meet people's needs. Of equal importance, it also creates jobs. The world is increasingly hostile to missionaries, and our own culture is increasingly hostile to Bible-believing Christians. But, borders are open to job- creating businesses and Americans are open to business people that deliver on their promises. Business men and women should be and are on the front lines of Gospel proclamation through their work.
Why should students come to OBU if they want to pursue a degree in business, accounting, computer science, finance, international business, management, marketing or social entrepreneurship?
In the Paul Dickinson College of Business, we aren't just educating. We are preparing leaders to transform the culture in which they work and live. To that end, each of our majors is leading in its field. The OBU accounting program is 10th in the nation on CPA exam pass rates for programs of our size. Thanks to some generous donations from First United Bank, Vision Bank and private donors, our finance majors have more than $50,000 they are managing in the stock market. Our marketing majors are consulting with businesses and nonprofits helping them with their social media campaigns. The social entrepreneurship majors are winning business plan competitions and applying their skills through Enactus, an international entrepreneurial action organization for students. Computer science majors are developing apps for clients. Management and international business students receive experience through internships.
When students graduate with business degrees from the College, what careers are they prepared to enter? In what types of positions might they work?
Because business principles intersect nearly every job, our graduates are prepared to do almost anything. OBU business alumni are on the mission field, in banking, serving as CPAs or forensic accountants. They are successful sales people, marketing researchers, retailers and managers. Some have started their own businesses. Graduates can be found at Boeing, Charles Schwab, Dell, Paycom, Sandridge, UPS and a host of other institutions.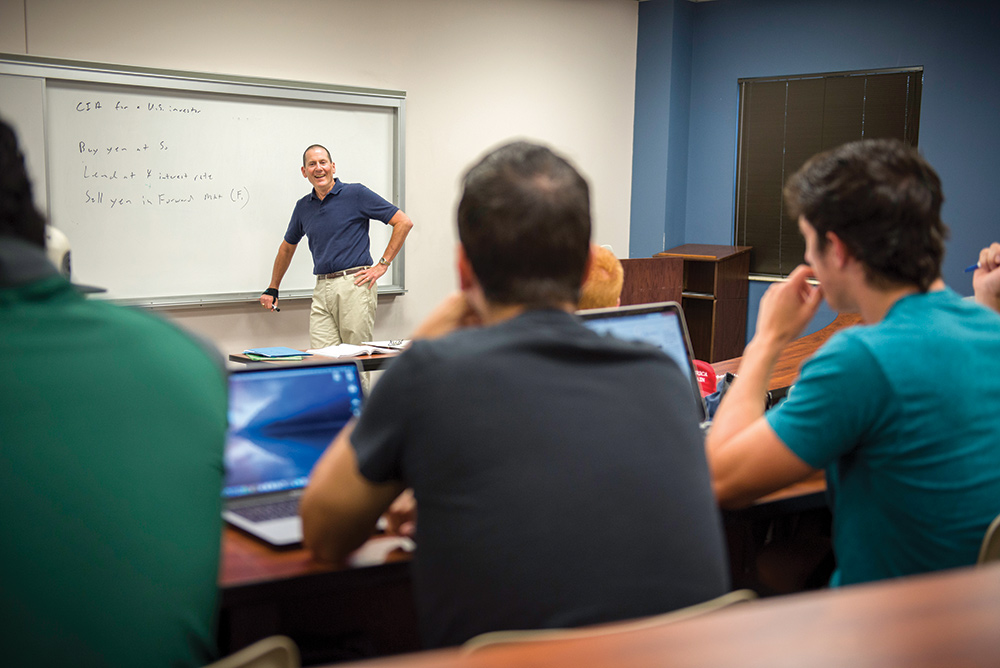 What does the future hold for the Dickinson College of Business? What are some long-term goals?
As our MBA approaches its 10th year, we are exploring ways that we can reach more students and have a greater Kingdom impact with the program. Initially, the MBA degree was only offered in our location in Oklahoma City. Students can still pursue the MBA at our Oklahoma City site, but today they can also pursue it fully online. We are exploring the possibility of an MBA residential program to be offered in Shawnee. It would be open to all qualified students, but we are especially hoping it will be attractive to international students or athletes who have a fifth year of eligibility and would like to continue their education, regardless of their undergraduate major. We are also in the process of reimagining our core courses in the MBA such that our MBA graduates will be uniquely qualified to become change agents in the companies they serve and the communities in which they live.
In our undergraduate program, our business majors will begin to cooperate more strategically with our STEM (science, technology, engineering and math) students. Our plan is that in their senior year, the STEM students will develop products, processes and services for which our business students can develop business plans and help bring them to market. Of course, some of that can already be done as our computer science and business students work together. But, increasingly you will find our business faculty and students working with faculty and students from our other colleges at OBU.
What are some things that people may not know about the College of Business?
In their very first semester at OBU, business majors create their own small business as part of Dr. Rich Rudebock's introduction to business course. Rudebock is the Robert L. and Sara Lou Cargill professor of business. The businesses only last one semester, but it is a great way for them to immediately apply what they are learning. Fifty percent of the profits from the teams' projects are given to charities selected by each team. The other fifty percent is used to fund business college scholarships.