When the mission is to shape the future, it only makes sense to take on a new look that will carry students well into that future.
Last spring after the OBU Board of Trustees made several important decisions including the approval of campus construction projects, OBU President Dr. Heath A. Thomas told University employees, "With new proposed degrees, significant construction improvement projects and faculty promotions in rank, the future is bright on Bison Hill. We are committed to reaching this next generation of future shapers and equipping them to live all of life, all for Jesus."
From the business services committee, chaired by Steve Bagwell, the board voted to approve two campus construction projects paid for through the generous contribution of the Tulsa Royalties Company at a cost of $3.5 million. Focused on delivering the best on-campus experience both in housing and in academic facilities, the University began construction last summer. However, the updates don't end there.
Across Bison Hill, students, faculty, staff and visiting alumni are noticing impressive evidence of this commitment through construction completed and ongoing projects.
On  a recent day, a tour group of various friends of OBU walked through the doors of the Sarkeys Center. Those who had taken classes in this building a few years back simply shook their heads in pleasant amazement at the changes.
Why such a reaction?
The Sarkeys Center, which houses academic programs in communication arts, underwent a $1.3 million renovation providing notable updates to classrooms, a student center, faculty offices, audio/video editing suites, a conference room, and the lobby and entry space.
However, as they say, "Wait there's more." Significant improvements in the Sarkeys Center also include modern furnishings and décor, flooring, ceilings, lighting, modernized technology and computer labs and a new roof.
Sarkeys Center houses learning space and equipment for a variety of degree programs including communication studies, journalism and mass communications and theatre.
It's in this building that students gain valuable experience through the many resources provided. OBU has a strong commitment to providing opportunities that reduce any gap between learning spaces and actual working environments.
The multi-faceted building offers a professional environment for production of the student news broadcast, "News on the Hill," video production, and creation of the student newspaper, "The Bison."
Theatre students utilize spaces for set design, technical and creative design, rehearsals and theatre performances inside the Black Box Theater. A large, updated computer lab is also housed in the facility.
That's one of the many projects aimed at making tomorrow much brighter with changes today. Here is a quick look at a few of those:
In June 2022, the OBU Division of Art and Design installed a painted mural on the north exterior wall of the Art Annex building. With original artwork created by OBU alumna, Vanessa Myers, a crew of alumni, current students and staff worked to bring this unique addition to the campus and Shawnee community. The interior of the Art Annex was remodeled in recent years.
During Summer 2022, Taylor Residence Center received interior renovations to the common spaces throughout the building creating a brighter, inviting space for upper class women. The next phase of renovation will include updates to individual rooms.
Currently, Howard Residence Center is under renovation, providing significant improvements to modernize the facility for student housing usage. The complex includes suite-style rooms that house 33 students and 12 apartments that house 48 students for a total of 81 students. This project includes new flooring, paint, furniture, cabinetry, appliances, HVAC, electrical systems and windows.
As OBU students returned to campus in January, changes were underway in Thurmond Hall, which was originally completed in 1954. Thurmond Hall is undergoing significant renovations to create labs and classrooms for OBU's new engineering programs in time for new freshman enrollment in the fall 2023.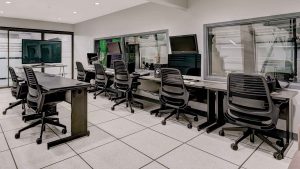 Audio/Video Editing Suite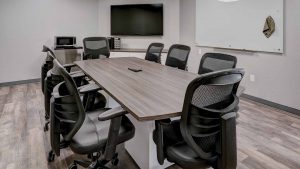 Conference Room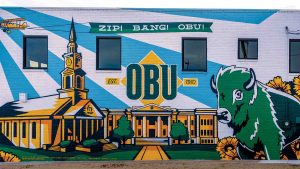 Art Annex Mural