As individuals, we enjoy the personal satisfaction received in knowing that we made a positive impact in someone's life. It is fulfilling to realize that we are a piece of the puzzle that helps complete the big picture in someone's journey, experiences and personal growth.
Like individual pieces of a puzzle fit together to create a beautiful picture, OBU shares examples of two students whose opportunities fit together to create their beautiful journey on Bison Hill. Here students' lives are being changed, academic goals completed, ministry callings fulfilled, financial needs met and lives equipped to carry the gospel to the nations. 
The need is deep. The reach is wide. And OBU's Annual Fund serves as the foundation in providing these rewarding avenues and dreams to students. 
What exactly is the OBU Annual Fund and who can participate?

 
The Annual Fund is an ongoing fundraising effort through the OBU Office of Advancement that receives contributions with no restrictions on how they are used. The OBU Annual Fund covers a wide expanse that solicits support from recent graduates, long time alumni, friends, family and ministry partners of OBU's mission. Donors contribute at whatever level they can and are encouraged to make this an annual practice in hopes of creating a greater impact. No amount of giving is too small to make a difference.
Donors can rest assured every dollar given goes directly to OBU and most often in the form of scholarships that help supplement the cost of a student's tuition. 100% of students at OBU receive some form of scholarship to bridge the gap and assist with the cost of tuition. The OBU Annual Fund contributes to these scholarships as well as the overall operations and enhancement of the University through innovative and value-added programs, career resources and other significant aspects of the University. It also helps attract and retain the best faculty and provides them with professional development. 
Through the generosity of alumni, friends, partners and supporters of our 112-year-old University, the OBU Annual Fund continues to impact students on Bison Hill. It provides students the opportunity to receive a high-quality distinctively Christian liberal arts education and to be known as future shapers who are challenged to impact the world for God's glory.
Who Benefits from the OBU Annual Fund?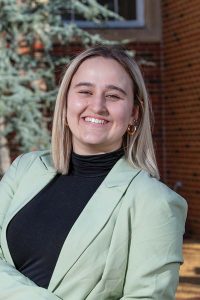 OBU Senior Lily Huff, a journalism and mass communication major from Oklahoma City, says that her decision to attend OBU was completely determined by the amount of scholarship dollars the University was able to provide. Those scholarships are a direct result of thoughtful, intentional donors contributing through avenues such as the OBU Annual Fund.
Serving as the current OBU senior class president, Huff will graduate in May with three valuable internships under her belt, thanks to the personal relationships she has established with her professors. She says that the smaller university setting allows her to be seen and known by the faculty and other students, an environment she truly values.
Huff also serves as co-chair for The Herd, OBU's student tour guides, where she participates in many campus events related to student recruitment. She is senior co-chair of the OBU University Concert Series, has participated in study abroad through OBU and is a member of a social club on campus. 
"OBU has afforded me many spaces to grow as a leader and to work and collaborate with others," she said. "My family was so thankful when I had the chance to receive several scholarships from OBU. It helped relieve a lot of the financial pressure that we felt. It was a blessing to know those scholarships would help me be able to attend school on Bison Hill."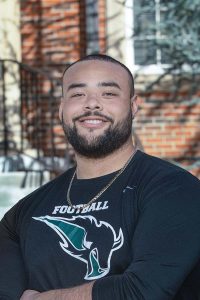 Taylor Mante is an OBU senior majoring in exercise science. Mante came to OBU from his hometown in British Columbia after being offered both an academic and athletic scholarship. He plays defensive tackle for the OBU Bison football team and will graduate December 2022. Mante says he was thrilled to have the opportunity to fulfill his childhood dream of playing NCAA football in college. 
"I reached out to many Division II schools sending my highlight reels and stats. When I heard back from OBU and was offered the scholarships to make it happen, I said to myself, 'dreams come true.' I wouldn't be here if I hadn't received those scholarships."
Mante says he has grown so much as a young man through the many opportunities afforded him at OBU. Whether taking courses in Old Testament and New Testament, developing friendships with other international students, or enjoying the incredible bond with his football teammates and coaches, Mante credits OBU for these life-changing experiences.
Because of the OBU Annual Fund, students like Lily Huff and Taylor Mante are deeply enriched. It is the result of a thoughtful and generous gift contributed by someone who is willing to be a piece of the puzzle that makes a student's dreams come true. Individually, each piece, no matter how large or small, makes a difference…adding beauty, enrichment, growth and meaning to the amazing landscape of students found on the campus of OBU. 
Please consider being a piece of the puzzle by making a gift to the OBU Annual Fund. You may also call Crystal McKee, Director of Administrative Development, by email at crystal.mckee@okbu.edu or phone at 405.585.5412 to contribute.