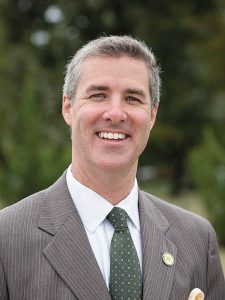 In 1906, anticipating statehood, messengers from the Baptist Convention of Indian Territory and the Baptist Convention of Oklahoma Territory came together in Shawnee to form what is now known as the Baptist General Convention of Oklahoma. One of the new convention's first items of business was the establishment of an education commission, who, in 1910, made a motion to found The Oklahoma Baptist University.
What those early Baptist pioneers did was nothing short of amazing! Our founders could have established a seminary, a two-year college, a Bible college, or a male-only school, all worthy beginnings and all very common in that day. But rather than holding to conventional wisdom, those Baptist pioneers founded a four-year, co-educational, Christian, liberal arts university – one that would impact every area of society and culture.
We often talk about OBU's founders. We think they would be pleased to know that their dream of impacting every area of culture and society is being fulfilled by the more than 18,000 graduates serving in business, medicine, ministry, law, government and education.
Many of the academic programs first imagined by those early Oklahoma Baptist leaders are found today in the College of Humanities and Social Sciences. As you have read in this edition of the OBU Magazine, the faculty in the College of Humanities and Social Sciences are pressing forward with exciting innovations while holding true to the founder's dreams of the Christian liberal arts. Like the founders of OBU, the dreams of today's faculty and administration require new technologies and facilities to propel OBU toward new levels of excellence and success.
As we continue to push toward the completion of the Vision for a New Century 2.0 campaign, the largest resource development initiative in OBU history, one of the planned building projects will have tremendous impact on the College of Humanities and Social Sciences. Just to the north of Raley Chapel, in the space once home to Jent Hall, a new major resource is planned for Bison Hill.
The Student Services Center will provide a welcoming first impression for all who visit Bison Hill, from prospective students to alumni and friends. Serving as the official grand entrance to campus, the proposed 28,000 square foot facility with an estimated construction cost of $8.5 million is another step forward in communicating the OBU story. Visitors will be able to learn of OBU's worldwide impact through engaging video presentations on the University's history and the success stories of our graduates. The first floor will house the offices of admissions, student financial services, registrar, academic center and bursar. Executive offices will be located on the second floor.
Not only will this stately, high-use structure serve the needs of the campus community, it will also accomplish another major and crucial goal of the campus master plan – to convert Thurmond Hall into the home of the College of Humanities and Social Sciences. Faculty offices currently housed in Owens Hall will be moved to one of OBU's most iconic buildings while also planting the flag of the College directly on the oval. In doing so, six of OBU's academic colleges will be on or nearly on the oval.
As you read about the College of Humanities and Social Sciences in this magazine, I pray you will consider a gift that will transform lives and impact generations of students. Perhaps you will consider signing up for MustardSeed or consider providing an outright gift online at okbu.edu/give. Whatever the case, please know we are grateful for your faithful support and your desire to partner in this incredible mission given to us by the founders of OBU and the subsequent generations upon which we stand.