Institutional mission statements are often written and put aside, hanging on a wall or sitting on a shelf, never seeing the embodiment of their purpose. Sometimes, core values are forgotten completely, never impacting those for whom they were written. Not so at OBU. The University's mission and values are constantly at work in the lives of those on Bison Hill. Since the time of their development, they have guided the plans, major initiatives and activities of the University.

Not only do they influence those employed by the University, but they also permeate the lives and activities of students and alumni who are forever transformed by their experiences on Bison Hill. One such student is junior Caroline Abbe, who lives out the University's core value of an excellence driven life in the classroom and on the court.
Caroline Abbe is a junior finance major in OBU's Paul Dickinson College of Business, as well as an accomplished tennis player, who manages her time wisely to succeed as both a student and an athlete.
For most university students, balancing coursework, a social life, a job and adequate sleep is already an overwhelming and daunting task. For student athletes, however, that goal gains a whole new set of challenges and obstacles to overcome. With some serious time-management skills and clear goals in mind, Abbe has learned to make the most of her time on Bison Hill. Though she has less free time than most, she has found a way to excel both academically and competitively.
"Caroline is a well-rounded, gifted student," said Dr. David Houghton, dean of the Paul Dickinson College of Business and professor of business. "She enthusiastically accepts responsibility, has a very strong work ethic, has superior time management skills and can be counted on to perform tasks without supervision. However, among her many excellent talents, probably her greatest strength is her ability to connect with those with whom she comes into contact with on a personal level and to express genuine love and concern in practical ways."
Originally from McKinney, Texas, Abbe remembers being taught the basics of tennis by her grandparents. She began her training at age six and was competing in tournaments by the time she was eight years old. Abbe recalls the importance of her family's role in becoming the person she is today and the impact they had on her athletic achievements.
"My initial love for the sport stemmed from my family," she said. "My parents fully supported my love for tennis and encouraged me at a young age. My family is so important to who I am today."
Abbe's father, Chris, often accompanied her to tournaments acting as her "coach on the road." She recalls that he would intentionally wear shirts to match whatever outfit she was competing in that day, which led to Abbe labeling him as her "biggest fan." Her older sister, Ashlynn, was also an OBU tennis player. The two sisters grew up playing tennis together and eventually shared a year playing on the same Bison team.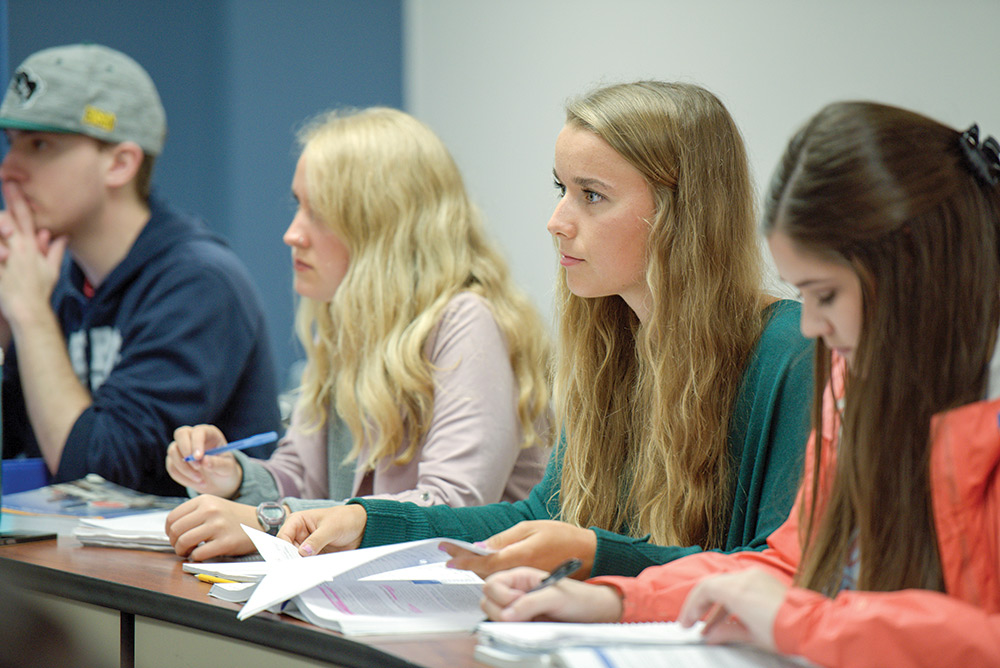 Though her family was instrumental in Abbe's decision to pursue tennis, her love for the sport was fueled by an enjoyment of independence and competition.
"From the beginning, I knew tennis was my sport," she said. "I played a couple seasons of soccer growing up, but I loved the challenge that came with being your own team out on the court. I love to compete."
Before journeying to Bison Hill, Abbe was already an accomplished tennis player. In 2011, she was a 5A regional semifinalist, and the following year she ranked as a semifinalist in the state competition. Abbe was ranked among the top 250 players within the nation and as one of the top 25 players within the state of Texas.
Abbe did not stop achieving success once she arrived on Bison Hill. In 2016, she was named a Great American Conference undefeated regular season champion. This year, she was a National Christian College Athletic Association national champion, GAC academic honor roll recipient and GAC flight five individual champion.
Nick Papac, head coach of men's and women's tennis, is impressed by the display of excellence he has seen from Abbe.
"I think Caroline is an exemplary student athlete," he said. "It comes as no surprise that she is on track to graduate in three years. I have only known her for a short time, but it is apparent that success is habitual for Caroline. This is displayed in her organizational prowess, her maturity and her keen ability to listen and apply what she has learned. Her faith in Christ is visible in the way she piously pursues her academics and tennis."
Abbe spends many hours working toward her accomplishments. Along with keeping up with her coursework, she spends two hours every day but Sunday in team practices and fitness training. In a typical week, she visits the RAWC five to six times to work on her strength, cardio and core.
Traveling for competition often pulls her away for days at a time, and Abbe is challenged to maintain a healthy equilibrium.
"Balancing classes, work, tennis and life takes serious time management," she said. "I don't have a lot of free time, and that can be hard. But I have an amazing fiancé, friends and roommates, who are all understanding and enjoy the time we do spend together."
After graduation, Abbe has a plan to pursue a position in banking, but her dream is to own a small business one day. She has a passion for home décor and bringing families and friends together. She would love to own a business that unites people through good conversations, creative atmospheres and community.
More than anything else, she says she cherishes the friendly faces she's grown to love at OBU, especially her teammates and coaches that have been with her along the journey. She is thankful to be on a team of superb athletes she can also call friends. The friendships and mentorships developed from her time on Bison Hill have led Abbe to consider the team her "family away from home."
"I am so blessed by the opportunity to receive an education and play tennis for OBU," she said. "It has been such a sweet time of growth where God has allowed many of the University's leaders and my peers to transform me. The friends and memories I have made on Bison Hill are irreplaceable."