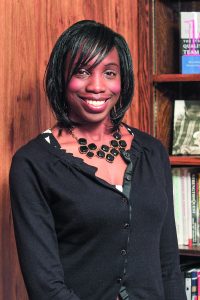 Marissa Lightsey, OBU director of career development, received the "30 Under 30 (30/30) NextGen Award" during a ceremony in Oklahoma City Oct. 15.
Presented by ION Oklahoma, a digital and print news source covering the state, the 30/30 Next Gen Award began five years ago to recognize 30 individuals, all under the age of 30, in the state of Oklahoma. The honorees are selected to represent the next generation of innovative, creative and inspiring individuals who push the boundaries beyond their years in all areas: arts, entertainment, business, media, sports, technology and more. Nominations include young professionals from across the state of Oklahoma. A panel of business and civic leaders select winners who are profiled in IonOklahoma Online.
Lightsey joined the OBU staff in 2013. She earned a Bachelor of Arts in applied communications from OBU in 2010. She earned a Master of Science in human resources, with an emphasis in human resources administration, from East Central University in 2014.
After graduating from OBU, she served as a communications associate for the Oklahoma Institute for Child Advocacy. She also served as the upward bound advisor for Seminole State College's TRiO program. She then served as advisor for Seminole State's GEAR UP program.