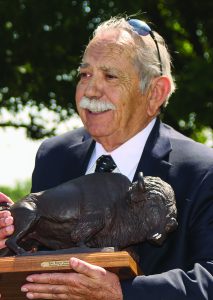 Nick K. Stavros was born Dec. 4, 1934, in Athens, Greece, and died Jan. 12, 2015. He was 80 years old. Stavros met his wife Jane Eleanor Hurt Stavros through mutual friends. They were married July 16, 1960, settled in Tulsa and began their family. In the years to follow, the couple founded Metro Builders Supply, which has become known as Metro Appliances
and More.
In 2014, Nick Stavros provided the lead gift for construction of the new facility for the OBU College of Nursing. The building is named in honor of his late wife, Jane, who was the daughter of Victor C. Hurt, legendary OBU athletic director and football, basketball and track coach.
Stavros is survived by his daughter, Stephanie Stavros Guinn and her husband, Steve; daughter, Tina Stavros Morton and her husband, Rusty; son, John Stavros and his wife, Rebecca Jones Stavros; seven grandchildren; a brother and sister-in-law; and many nieces and nephews.
Construction Progress
Progress continues on Jane E. and Nick K. Stavros Hall, future home of the College of Nursing. The building sits north of Shawnee Hall near the intersection of Kickapoo and MacArthur. The facility is set to open by January 2016. Pictured is a view of the front of the building from across MacArthur as the cupola is placed on the roof.