Class could start before sunrise or well after sunset. The student could be perched on a living room couch, sitting in an office or tucked away in a booth at a fast-food restaurant. This is the benefit of online learning. OBU is offering its first fully online bachelor's degree, a Bachelor of Arts in Christian Studies degree through the Hobbs School of Theology and Ministry.
Designed for working professionals, classes for the online Christian Studies program are offered in an asynchronous format, allowing students to access classes at times convenient for their schedules.
"Adult learners who want to go back to school to complete a degree or who feel called to better equip themselves by pursuing a bachelor's degree now have a viable option through OBU," said Micah Meek, associate dean for online, nontraditional and graduate education.
"This degree is specifically built so adult learners can further their education wherever they may be. We are thrilled to be able to provide access to an OBU education to individuals who may already be employed, established in a community or serving globally. With a tuition rate of $350 per hour, we have tried to make the degree as affordable as possible," he said.
The online Christian Studies program provides courses in biblical and theological studies along with the University's common core, which equips students with skills that foster critical thinking, intellectual curiosity, effective communication and a Christian worldview in all areas of life.
Courses are offered in eight-week sessions throughout the year. Students may start at any time and can finish in as few as three years or set their own pace for completion. The 120-hour degree can be completed in an even shorter timeframe by students who have already earned college credits. The program includes 25 elective hours so students can transfer in prior undergraduate coursework to fulfill the electives or explore other areas of interests through OBU.
---
Growing Deeper in the Word of God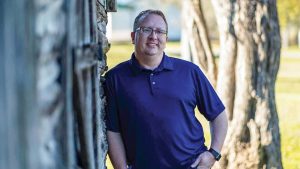 "It has always been a great desire of mine to grow deeper in the Word of God, both personally and corporately, so I may understand more and lead better," said Jim Lewis, senior pastor at First Baptist Church in Coalgate, Oklahoma.
"I am so very thankful that OBU has decided to move forward in offering this degree program. If I can grow deeper, then I am able to lead our church deeper in their relationship with the Lord. It is a great pleasure to be a part of this wonderful school. And ever since I toured the campus in 1996, as a graduating high school senior, I've wanted to be a part of OBU. What a blessing it is to step forward in this opportunity."
For more information about the online Bachelor of Arts in Christian Studies, visit okbu.edu/online-ba.