OBU President Dr. Heath A. Thomas draws inspiration from the University's purpose and joy from graduates who are changing our world.
---
There's a difference between education and wisdom. 
Education is about attaining the knowledge, skills and aptitude in a specific field to effectively perform a job. This is good. But wisdom is about knowing why that job needs to be done in the first place and the human impact it can have on everyone it touches. 
When Heath Thomas looks out into the world at what graduates of OBU are accomplishing, he sees God's wisdom guiding their lives and careers. That's when the joy fully kicks in.
"I see the opportunity to change our world through our graduates at OBU," Thomas said. "The opportunity is there not only because of the distinctive mission of OBU, but because of the quality of our education. We want to facilitate gaining wisdom, not just education for a job. I am overjoyed to see what God is doing through our graduates around the world."
In His Blood
The OBU presidency wasn't something Thomas was seeking or had ever really considered for himself. He had been perfectly happy in his role as dean of OBU's Hobbs College of Theology and Ministry. He loved the people, the place and the purpose.
And it makes sense.
Thomas grew up in a pastor's home, the youngest of four boys. His mother was a homemaker and interior decorator and his father was a Baptist pastor who was also involved in leadership positions for various Christian non-profit endeavors providing aid to those in need.
It was his father's faith and devotion to service that, Thomas says, influenced him and his brothers and was a major impact on his life. They spent family time together in the mountains of east Tennessee fly-fishing, enjoying the outdoors and learning from their father. The link between his father and mother's devotion to serve others and the legacy of OBU has always been unmistakable.
"What motivated me was my love for OBU and my commitment to OBU's mission and legacy," Thomas said. "It was really the opportunity to serve students and impact their lives for Christ. All of life. All for Jesus."
So, when people around him who he knew and trusted encouraged him to pursue the presidency, he knew it was the right move.
"We have to ask the question of our community, 'how can we help shape our future – all of life, all for Jesus?'"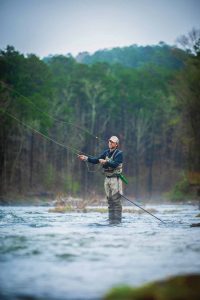 Forged in the Fires of Academics
A graduate of OBU himself, not to mention having a brother who is also an OBU alumnus, Thomas understands well the power that an exceptional college experience can have. And it's that exceptional OBU experience from which he draws upon now in his role as president.
"I've experienced world-class education," he said. "This background along with exposure to leadership in churches and church life is a unique combination and skillset. I feel like that understanding, exposure and connections throughout the years have prepared me uniquely."
But it isn't just education for education's sake. To achieve true growth, learning must be aligned with purpose and character and overcoming challenges, especially those that are unforeseen. And it was just this kind of purpose, character and unforeseen challenges that would present themselves to Thomas – just two months after becoming OBU's president.
Leading Through a Pandemic
When COVID-19 hit and was elevated to the status of a pandemic, Thomas knew that he would be challenged in unprecedented ways.
He describes it as the "fire of decision making" that was abruptly upon him. The crisis was sudden. It was something nobody saw coming. And, in the beginning, how the pandemic would ultimately unfold and the impact it would actually make was a complete unknown. 
As he had done throughout his life, Thomas turned to prayer. 
"In the midst of the COVID challenges, we were being put through the fire," he said. "Our community rallied together to meet the challenges and we did. In the midst of it all, prayer has been my lifeblood. I've come to know the Lord and myself better: early morning, sleepless nights, all driven by a desperate need to hear from God." 
Thriving in a New World

 
Moving ahead under Thomas' leadership, OBU is poised to reach even greater heights. Thomas is keenly focused on answering God's call and continuing to transform lives, and the world, through his work at OBU. 
But Thomas' focus is on more than just enrollment numbers and bottom lines, although he knows those are necessary for OBU's future. It's about growth and multiplication. Building relationships and changing lives. Empowering students to live and work with wisdom. And being faithful to Jesus as OBU fulfills its mission and purpose. 
And he knows he's not in it alone. He knows the OBU faculty and staff are poised to move the University forward. 
"Our faculty and staff care deeply about our students and invest in their lives. They are truly world class," he said. "I can't build on OBU's past accomplishments, but we can," he said. "We have to ask the question of our community, 'how can we help shape our future – all of life, all for Jesus?'"
Always Ask the Question

 
When asked what else it will take for OBU to successfully forge its path ahead under his leadership, Thomas is focused on the needs of the world.
"No matter what we're doing, we always have to ask, how can we help the community?" he said. "What does our world need and how can we meet that need? The intellectual is not doing the work for oneself, but for the world around him."
And in the end, he wants students to pursue answers, growth and wisdom through an experience reminiscent of his time as an OBU student.
"OBU taught me how to think and gave me the equipment to know how to discern truth from error," he said. "OBU taught me how to think across disciplines and fields of study. It broadened my perspective in terms of my interests. It taught me how to identify problems and gave me the skillset to find the solutions. OBU built in my life discernment, wisdom and character. OBU put me on that path of scholarship bent in service of Christ and his church."
Thomas believes God has called him to build, enhance and elevate that story in which God has placed him. And that's what he wants for all students on Bison Hill.
"OBU's degrees equip students with the technical knowledge to excel in the careers that God has called them to do," Thomas said. "But it doesn't stop there. It inculcates wisdom, discernment, critical thought and a commitment to Christ in all of life."