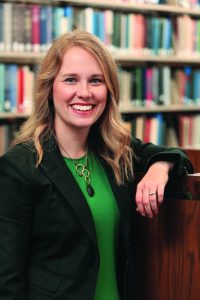 Melissa Hayt joined OBU in September as director of student success to serve in the Milburn Center.
Hayt directs programs related to at-risk students, general academic support, student-athlete academic support, retention counseling and retention initiatives. The Milburn Center assists students of all majors, classifications and academic needs with comprehension of course material and development of study, research, analytical, reading, writing and critical thinking skills.
Students visit the center for assistance with writing assignments and academic support in core subjects as well as mathematics, chemistry, physics, accounting and economics. The staff also provides academic advising to students who have not declared a major or who are in the process of changing majors.
Hayt completed a Bachelor of Arts in corporate communication from the University of Central Oklahoma. She then completed a Master of Education in adult education, training and development, also from UCO. She is currently working on a Doctor of Philosophy in higher education, educational leadership and policy studies from Oklahoma State University.
Prior to joining the staff at OBU, she served as the manager of transfer student support at UCO. She previously served in other positions at UCO, including coordinator of academic programs, coordinator for student leadership development and graduate assistant for student leadership programs.
Hayt says she was drawn to OBU because of the environment
on campus. "I wanted to be a part of Christian higher education and to encourage students not only in academics but in their spiritual lives as well. Each student comes to the success center looking for something different and I look forward to helping them find the support they need, be it academic, social or spiritual."
"The most significant aspect of my job is working with the students who are employed by the success center as well as the students who visit the center. It is such a valuable resource to OBU and I feel that my primary role is to continually evaluate and improve the services provided here," she said.
Hayt grew up in Midwest City, Oklahoma, where she and her husband, Dusty, currently reside. He is a recent graduate of the OBU MBA program. Her hobbies include hanging out with students from the college and career Sunday School class that she and her husband teach. She also enjoys playing with her two dogs, working on her dissertation and attending Broadway musicals.