OBU Alumni and Friends,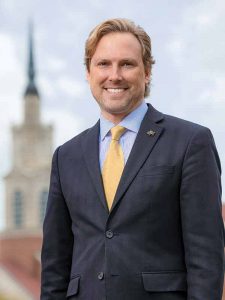 Our Lord is doing great things among our students, faculty, and staff. Although we have all faced challenges over the past year, we continue to fulfill our grand purpose of transforming and equipping the next generation of future shapers to live all of life, all for Jesus. 
During the past academic year, for both the fall and spring semesters, we were able to hold classes on campus and in person while maintaining physical distancing. This was a true gift from God and a great accomplishment by our students, faculty and staff. We had the privilege of celebrating 124 graduates during our winter commencement and 277 graduates during our spring commencement. 
While families have been unsure what the future holds and are still uncertain about making the investment in Christian higher education, we remain committed to our Christ-centered, world-class, transformational education. Considering the environmental and economic uncertainties, OBU continues to steward our resources as we press forward with great purpose. We have refined our programs so we can meaningfully engage our communities. We are leveraging all we are to serve our Lord so that we might be a blessing to the world. 
We hold fast to the truth of 2 Chron. 16:9: "For the eyes of the Lord roam throughout the earth to show himself strong for those who are wholeheartedly devoted to him." OBU has consecrated itself to be "wholeheartedly devoted to him," trusting that God will show himself to be strong! We must never forget each of our challenges is met with great opportunity. We work diligently, pray earnestly, and devote ourselves to our God. We ask that God would grant us the courage, resources and strength to meet the needs of our day. 
This we know: our churches, our communities, our nation and our world need leaders wholeheartedly devoted to Jesus in every sphere of life, equipped to make a difference there for God and for lasting good. We need God's wisdom to permeate our education. All of life, all for Jesus. OBU is committed to that task. We ask you to join with us as we shape our future together. 
May God bless you, and may God continue to bless OBU.
Dr. Heath A. Thomas
OBU President
---
Dr. Heath A. Thomas became OBU's 16th president Jan. 1, 2020, less than three months before the pandemic hit Oklahoma sending OBU's students and employees home in mid-March 2020 to finish out the semester remotely.
But OBU charged forward to bring students and employees back to campus for the fall semester to provide Christian liberal arts education on-campus throughout the past academic year. With roughly 90% of classes meeting in-person, the University followed safety protocols with face coverings, physical distancing, daily health screenings, regular COVID-19 testing, and online chapel services. 
In June, OBU returned to normal operations for the summer and upcoming academic year with a mask-optional policy moving forward.