by Kenny Day
5:45 a.m. It's dark outside. The sun will soon advance upward in the eastern horizon, but not yet. Families will soon awaken to ready themselves for school days, work responsibilities, chores and other activities, but not this early. College students will soon…well, probably not very soon…get up and start off to class. In fact, most won't awaken for at least two more hours or perhaps much longer, on those cherished days when class comes later.
For most on a college campus, not much is happening at 5:45 a.m. unless you're a student athlete, who by necessity must make the time to excel both in a sport and in the classroom.
And so it is for sophomore Hayden Ashley, a two-sport student athlete at OBU who is a wide receiver, punter and kicker on the Bison football team and a decathlete on the track team. He is also an accounting major, hailing from Tulsa, Oklahoma. On most days, he does in fact rise by 5:45 a.m., awakened at this early hour by a phone call from his father.
"I like waking up early to get more work done," he said, "especially to study accounting or 'civ.' I have also found myself studying sometimes 10 to 15 hours on the weekend and 30 to 35 hours throughout the week. Studying every morning and on the weekends has helped me tremendously in balancing both academic and athletic commitments."
Being a student athlete can be overwhelming at times. That's why Ashley strategically plans out his time. Even with the demanding schedule, he thinks it is all worthwhile.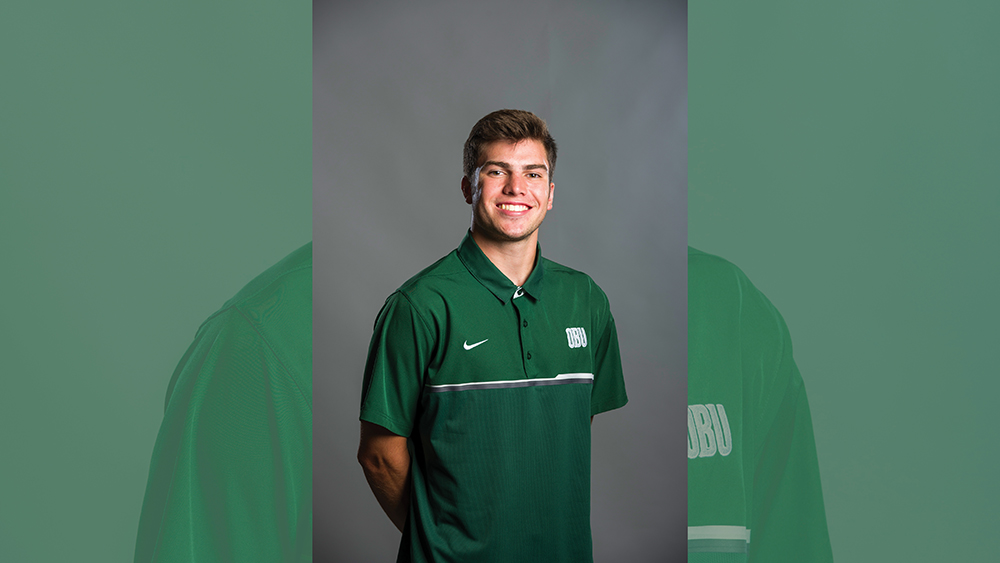 "Being a student athlete is great," he said. "The community in sports is unlike anything else. We are all working hard together to be at our absolute best and to perform well for football games or track meets. Working hard together every day creates a very tight bond and lasting memories."
With his older sister, Hannah, graduating from OBU in 2015, Hayden knew this was the place for him.
"I chose to attend Oklahoma Baptist University because I was not only given the opportunity to play both football and track, but I was given the opportunity to obtain an education from a Christian liberal arts university. I knew that OBU was a university that focused on Christ being at the center of everything," Ashley said.
As if football, track and academics wasn't enough, he is also involved in the Student Government Association, attending weekly meetings to help make campus a better place for all students.
He has found that one of the biggest upsides to attending OBU is the personal attention he receives from professors and coaches.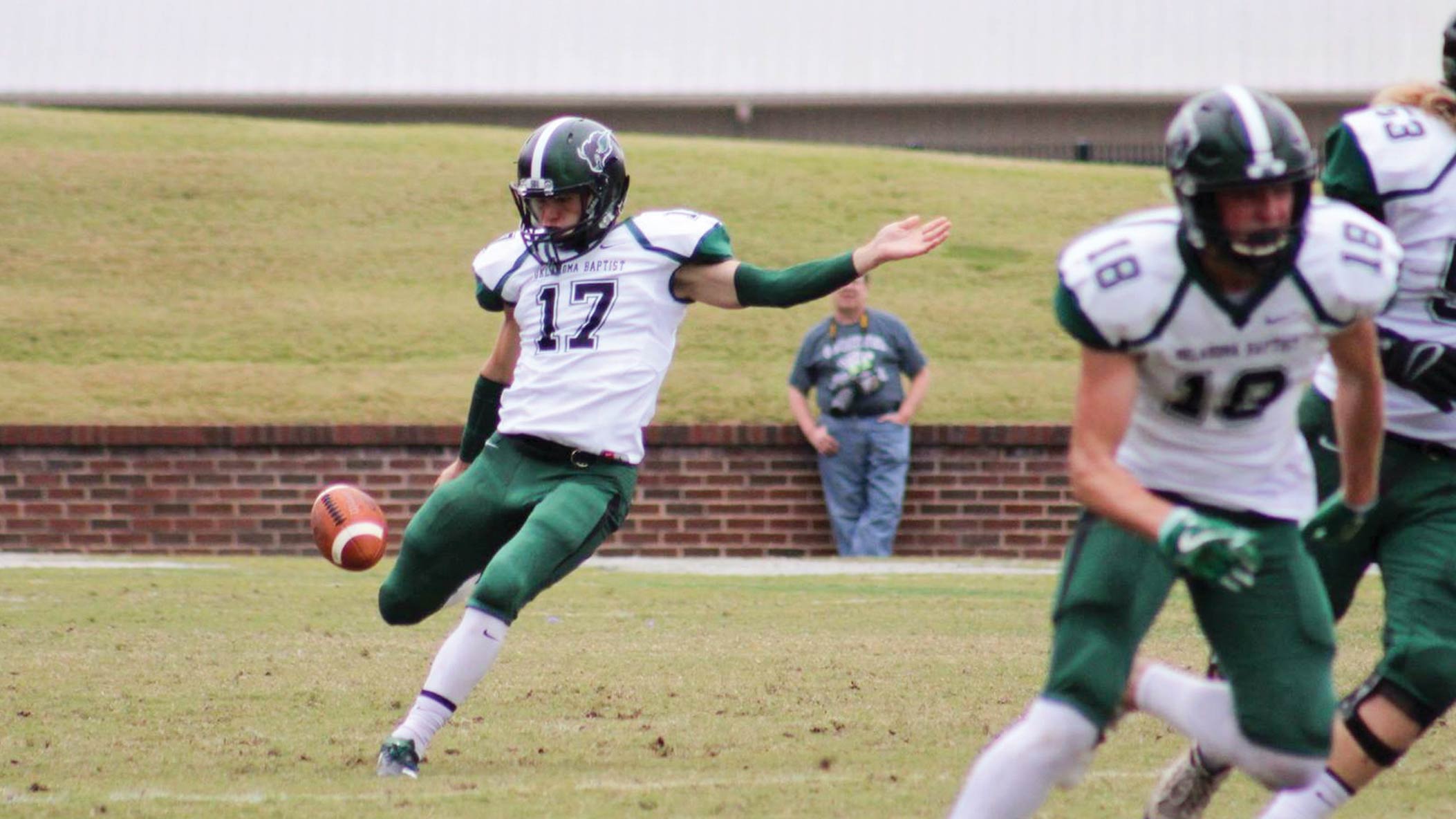 "The absolute best part of being a student athlete at OBU is that I am mentored by great coaches and teachers that fully invest in our lives to help us grow spiritually, athletically and intellectually," he said. "They want the best for us and push us to be the best we can, and that is what I enjoy most about being a student athlete."
Ashley credits his professors and coaches at OBU for significantly impacting his life and enriching his time on Bison Hill. He respects the way his coaches have all pushed him to be his best, while also encouraging him along the way. He also admires the way they remain grounded in their faith and instilling Christian values on both the football and track teams.
He acknowledges that many of his professors and other OBU employees have invested personally in him during his first two years on campus, helping him grow in his faith and grow academically.
"The coaches and professors really are what make OBU special," he said. "They want the absolute best for each and every one of us and do whatever they can to help us."
Just as those morning wake up calls from his father help keep him on track with his studies and commitments, he is grateful for the support his parents have given him through the years.
"My mother and father have both supported me so much. Athletics have been a huge part of my life and they have sacrificed a dear amount to enable me to do what I love. Both my parents often make long commutes to track meets and football games to support and encourage me and have been to nearly every one of my athletic events. They really mean a lot to me."
When away from Bison Hill, Ashley enjoys snowboarding, fishing and watching "Fixer Upper" on HGTV with his family, although, he admittedly doesn't have much time these days to pursue those interests. He is also involved in coaching youth athletes on a club track team in Tulsa called Personal Best Athletics. He enjoys being able to invest in children the same way professors and coaches have invested in him.
With such a busy schedule and so many priorities to balance, Ashley does have one OBU memory that stands out above the rest.
"Competing at the 2017 NCCAA Indoor National Championships in Houghton, New York, with the track team was very special. What made this meet so special was the OBU spirit, support and energy that was alive in the facility. We were all in support of each other and showed selfless love. The heart and emotion that was poured into this meet is why that experience was so meaningful. The support for one another, I feel, is the reason why both the women's and men's teams won [national championships]. The whole trip was a lasting memory that has been very special to me."