With each passing year and each new experience, OBU junior Casey Mills expands the gallery of images in her mind as she reflects on the vast number of people, places and opportunities that have shaped her.
Mills first fell in love with traveling in 2018 and 2019 while in high school. Her travels took her to Portugal, in a group partnering with a local pastor, to minister to children and the community there.
In 2021, Mills traveled with OBU on a combined Honors program study abroad trip and Global Outreach trip to Ecuador. While there, Mills served at a non-profit organization serving families in need, and building relationships with native children in the Amazon Jungle.
During the summer of 2022, she participated in the OBU Passages leadership trip to Israel and then returned to Portugal. "Every time I have the chance to travel abroad on one of these trips, I return with a deeper reverence for God's work in the world," Mills said.
The international encounters have strengthened Mills love for these nations and her desire to minister overseas. "I encounter people with lives that are very different from mine, but who are also very much the same. My world is enlarged right before me. I feel enriched, challenged and motivated to continue my calling to the nations," she explained.
It was during her senior year of high school that Mills was first drawn to OBU after learning of the University's strong relationship with the International Mission Board and the establishment of the new Tom Elliff Center for Missions. "When OBU began the Tom Elliff Center for Missions, I decided to major in global marketplace engagement," Mills said. "After graduation, I plan to use my OBU education and experiences to serve in the international mission field."
Now a third-year student in the global marketplace engagement (GME) program, Mills has gained even more appreciation for the international sphere. Her career path is preparing her to enter the ministry realm through training in the classroom and internships in ministry.
Mill's GME degree emphasis is TESOL (Teaching English to Speakers of Other Languages). TESOL specifically aims to offer avenues for students to teach English to refugees and immigrants, to teach overseas, or to start an English language or culture center.
She was able to do just that during the past year as Mills met weekly with teenage girls living in the Ukraine through Zoom meetings. She taught the girls English as a Second Language. She said, "I was able to build a relationship with these teens. Not only did I get to teach English, but more importantly I got to share the Gospel and show them God's love," she said.
Currently, Mills is serving in Poland teaching English to Polish college students. An OBU global marketplace engagement team of five students is there teaching English to Ukrainian women and children refugees. The three-month internship is a fulfillment of the training required as part of the GME program.
"It has been so fulfilling to be here in person and meet some of the students who I interacted with over Zoom meetings. We have had opportunities to go ice skating and even visit a local orphanage," Mills said. "I can see the Lord at work as we continue to build relationships and share the love of Christ. I am discovering God's hand in this journey."
When back at home as a student on Bison Hill, Mills serves her community and campus with the same spirit as she does overseas. She has served as an OBU Welcome Week small group leader and is a member of Kappa Phi Beta, the OBU Honors program, and the Tom Elliff Center for Missions. She also enjoys volunteering with service projects for local non-profit organizations in the Shawnee community.
Mills coaches gymnastics 10-15 hours a week and teaches English as a Second Language when the opportunity arises. She is active in her local church where she is involved in the college ministry and is part of a home group. In spite of her busy academic work and extracurricular activities, Mills has earned her place on the President's Honors Roll nearly every semester.
From her first discovery in high school of OBU's commitment to missions until now serving in Poland, Mills merits OBU for equipping her to fulfill God's plan in her life.
"My professors have expanded my mind in biblical truth, and stretched me personally and spiritually to grow in all areas of life. Through the GME program and the Tom Elliff Center for Missions, I have found an incredible community with amazing people that I couldn't find anywhere else," she said. "OBU has given me the community that I could never have imagined. Those in OBU leadership not only care about my academics, but also about who I am as a person."
"I truly believe that OBU is the best college to equip students to enter the mission field. The courses that I have taken and the discipleship I have received will impact my life while serving overseas," she said.
"It is so rewarding to experience the person-to-person impact that ministry can have on another individual, whether I'm serving locally at home or on the other side of the world."
---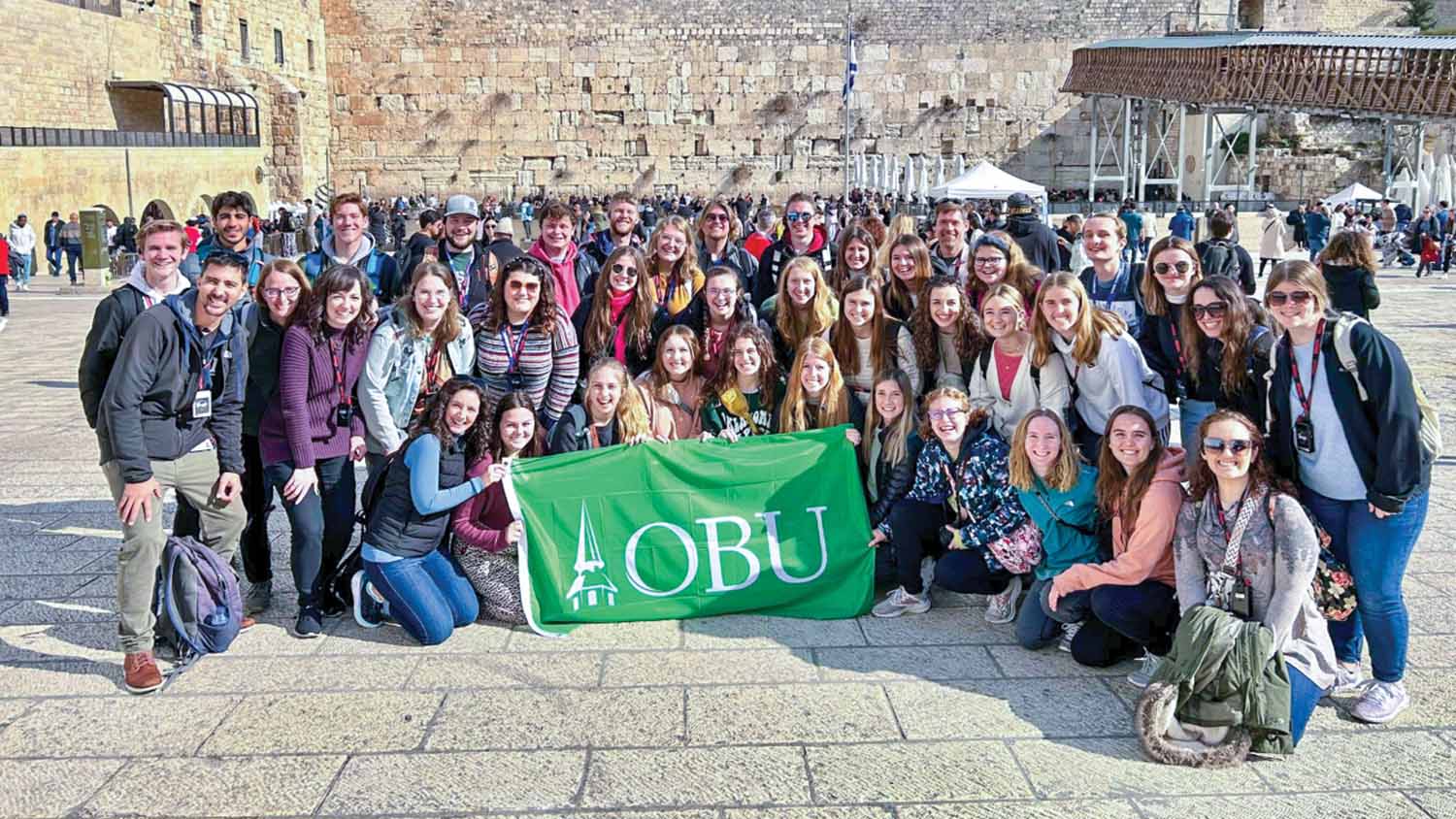 OBU's Global Outreach program offers students opportunities to experience the world by traveling to other nations throughout the year. During 2023 J-Term, seven teams of students, faculty and staff set out to serve in a variety of capacities.
One opportunity, offered in partnership with Passages, was OBU's Presidential Leadership trip. Pictured is the team of 30 individuals who participated in the nine-day educational excursion to Israel.