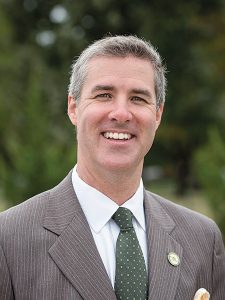 Even as I type these words, there is a deep sense of gratefulness to God for an incredible start to the 2017-18 academic year at OBU. We began this semester with another increase in students from the previous year with 2,093 receiving the world-class education found on Bison Hill. If you are keeping track, this number represents an 18.7 percent increase since 2009. OBU continues to garner attention and awards for excellence by U.S. News & World Report, Princeton Review, Forbes.com, Washington Monthly and many other publications.
The renovation of Ford Hall, an undertaking 66 years in the making, kicked off Aug. 30 with an expected completion by January 2018. Dr. Chris Mathews, dean of the Warren M. Angell College of Fine Arts, has developed and communicated an extraordinary vision for Ford Hall which will be used by to every department of the college. Space for music, art, drama, theater, debate, digital animation, graphic design and communications will be included in the renovated facility.
Thanks to a significant grant from the Shawnee-based Avedis Foundation, the former pizza restaurant building on Kickapoo is being transformed into the Marriage and Family Therapy Clinic. This clinic, which will be managed and operated by faculty and students in the Marriage and Family Therapy program, will serve the campus and community of Shawnee with counseling and mental health services.
At the end of September, a five-member team from the Higher Learning Commission visited campus for OBU's 10-year comprehensive review. OBU was ready, and I was more than impressed by the engagement and interaction of the entire campus – students, faculty, staff, Trustees, alumni, donors, and community members – with the team. While official word from HLC will not come for another month or so, the team left us feeling confident that OBU will be granted accreditation for another 10 years.
As we prepared for the arrival of the team over the last few years, we returned over and over again to OBU 2020: Mission, Vision, and Values. While God has guided our steps, OBU 2020 has informed our decision-making, campus master planning, and strategic thinking. Our kind and gracious God has allowed us to accomplish many of the objectives found within its pages.
We look forward to continuing the work toward achieving our goals to increase enrollment and scholarships; add endowed faculty positions; launch new programs; build new academic and residential facilities; grow and expand academic programs; send more students on international mission and study trips; establish centers of excellence; improve quality of life for the campus community including enhanced services for students, faculty, and staff; incorporate advanced technologies and instructional tools in the classroom and campus-wide; enhance campus safety features; recruit and employ outstanding Christian faculty who are top scholars in their disciplines; and develop and foster deeper relationships with Oklahoma Baptists and their churches.
Without a doubt, none of this would have been possible without the faithful support of OBU alumni and friends. Words really do fail to express our appreciation for all you do to make OBU a special place. Because of you, we have the incredible privilege of educating and impacting the lives of outstanding young people. For all the crazy things happening in our world, I have great hope as I watch OBU students walk the grounds of Bison Hill. Your giving, your prayers, your sending of students and your encouragement make the difference. God bless you and God bless OBU!
Dr. Will Smallwood
Senior Vice President for Advancement and University Relations