by Brittany Barrett
Dr. Vickie Ellis found her way to teaching through difficult situations in her own life and discovered blessings she never anticipated.
Ellis first decided to pursue a teaching career when she realized, as a single mother of a 2-year-old and a 3-year-old, she needed a way to provide for them.
"I had great teachers when I was growing up," Ellis said. "One was Connie Montgomery. I met her in the sixth grade when I wanted to be in a speech contest. She was a treasure. I ended up being in speech and debate all through junior high and high school and I loved it. So, when I was faced with the prospect of having two little ones to raise and not having any income, I remember thinking about how I might enjoy teaching the courses I loved in school."
Ellis pursued an education degree at Southeastern Oklahoma State University, and following graduation, taught high school English, coached speech and debate, and directed theatre arts. While teaching, she worked on her master's degree at the University of North Texas. Upon completion, she began teaching courses as an adjunct at several community colleges in Texas while pursuing her doctorate in education. She and her husband then taught at Southwest Baptist University in Bolivar, Missouri, for six years.
Ellis' husband, Barry Ellis, was recruited to the University of Central Oklahoma where he serves as associate professor of finance. They moved to Edmond to be close to his position and a year later, she came to work at OBU.
"I came back to my undergrad communication studies roots with this position," she said. "It was dynamically related to the research that I had done in education. Combining my love for communication and education, it seemed like the perfect opportunity."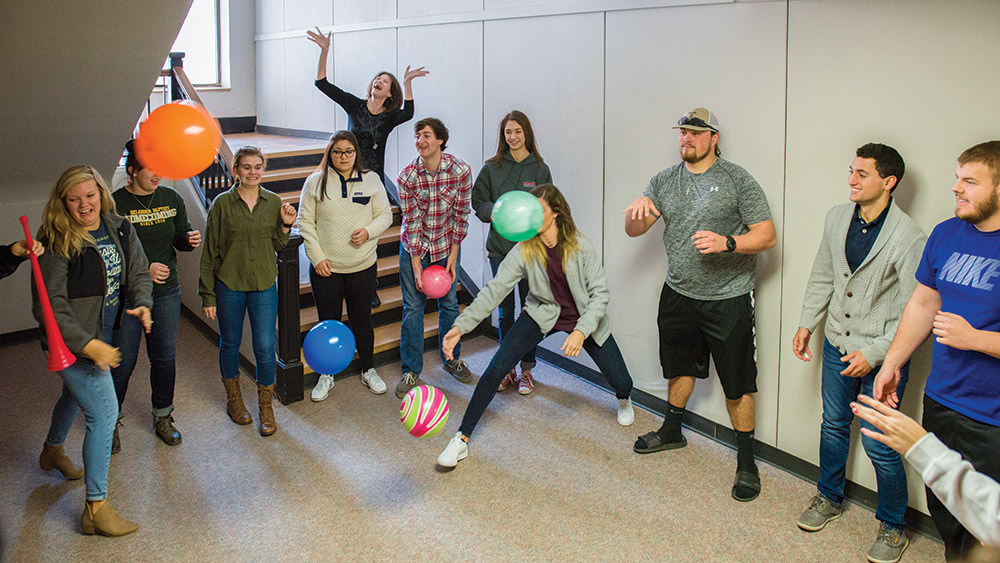 Ellis tries to make all of her classes engaging for her students, but her real reward is watching them grow and develop into God-centered communicators.
"I hope I don't have quiet classes or boring classes. My hope is for my students to be fascinated by this subject matter that God gave us," she said. "I get a special seat for four years of their lives in the communication discipline. It's almost unbelievable that God gave me this blessing as a result of needing a way to provide for my two little ones years ago."
Sensitivity and honor are at the core of her teaching. She tells her students they must be sensitive to their audience because when they honor the audience God has given them for any particular moment in time, they honor Him.
"That's a dignifying way to celebrate Jesus every day. It's an honor to get to teach that because it's so important to God's Kingdom. To celebrate who God made them. For us to not recognize and celebrate that means that we are hurrying too much. We are not being thankful enough about the people that God places for us to interact with. It's a holy, spiritual opportunity every time we interact with somebody."
Holly Easttom, assistant professor of journalism, has known and worked with Ellis since Easttom first came to teach at OBU 10 years ago.
"Vickie is the perfect storm: a generous heart, scholastic brilliance, energy, authentic kindness and an unstoppable force of nature," Easttom said. "She is instantly kind and has this beautiful way of focusing on you when she is talking to you that makes you feel like you are the most important person in the world. She has this great combination of energy, grace and academic rigor. She has the 'x-factor' when it comes to academia and that is something I want to model."
Receiving the Distinguished Teaching Award in 2017 came at the perfect time for Ellis as she experienced several major life issues immediately preceding and following receipt of the award.
"The timing of the teaching award was a gift from God, a life-saver and probably a career saver," she said. "I didn't know about life on the other side of my dad and then my mom passing away, along with some other family crises that all happened at the same time. The teaching award was a unique blessing."
She credits her opportunities and success to her experiences with and the support of her colleagues.
"When you are around amazing people, it brings out the best in you," she said. "I get to be inspired everyday by amazing professors and administrators. I have learned so much about leadership from my dean [Dr. Chris Mathews]. I love that he is mission focused and human oriented. It intersects in such a way that it is inspiring. I am motivated by him, other administrators here, my colleagues and my students."
Ellis' has two children: a son, Branson Stephens, '00, who works as an astrophysicist for Lawrence Livermore National Lab in Livermore, California, and a daughter, Nola Stephens, who is a linguistics professor at Covenant College in Lookout Mountain, Georgia.
In her spare time, Ellis enjoys art and Broadway musicals, claiming "Thoroughly Modern Millie" as her all-time favorite.
"When I am watching a musical, I am there; I am on the stage and in the song," she said. "I also love the experience of the arts and art museums."
But she is most famously known for her love of Christmas because, "If you are a Christian, you get to celebrate all year, not just on Dec. 25," she said.
Her favorite verse is Isaiah 26:3: "You will keep in perfect peace those whose minds are steadfast, because they trust in you."
"When things feel like they are upside-down, I just think of that verse and I think about His desire to keep me in His peace," she said. "And when I am saying that verse, I am in His peace."