From the Alumni Board President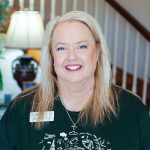 What a privilege it has been to serve on OBU's Alumni Board since 2015 and as your president for the last year! During those eight years, OBU underwent countless changes and improvements, some of which may seem insignificant and some others that seemed next to impossible. Nevertheless, as we sought to support past, present, and future students in all of our endeavors, the Lord blessed our efforts because of faithful servants like you who so generously and consistently give to our alma mater and its mission to send Future Shapers down the road and all over the world.
Our beloved University is in great hands. The administration, faculty and staff continuously strive to provide rigorous and relevant educational experiences for all students as well as assuring that facilities are state-of-the-art. When students begin their careers, they do so with confidence because OBU prepares them with the best of the best. Furthermore, President Thomas and his beautiful wife, Jill, truly love the students as if they were their own. The relationships developed between students, faculty, staff and administration compare with no other higher education institution. I wholeheartedly believe that there is no better place than OBU to further one's education.
As my presidency comes to an end, please allow me to encourage you to consider serving as a member of the Alumni Board. Under the leadership of Alumni Director, Lea Ann Quirk and her staff, this group aims to engage OBU alumni of all ages and from all walks of life through various events, programs and services. I guarantee there is a place for you on the board!
Thank you and God Bless OBU!
Laura Hillman, '90
---
2022-23 OBU Alumni Board Members
Pictured Left to Right
Lea Ann Quirk, '02
Leah Hillman, '99
Mandy Kniskern, '98
Scott Greenland, '03
Amanda Teape Johnson, '10
Karen Sims, '80
Chris Peters, '07
Lisa Roth, '92
Mike McDaniel, '79
Laura Hillman, '90

(President)

Jeremy Smith, '00
Megan Higgins, '05
Mandi MacDonald, '12
Kalyn Fullbright, '15
Dena Payn, '02
Leanne Howard, '78
Austin Manger, '14

(Secretary)

Deanna Wilder, '97
Not Pictured
Chuck Lawrence, '82 (Vice-President)
Libby Atyia, '02
Elizabeth Bird, '98