A Word of Welcome from the AVP for Spiritual Life and Dean of the Chapel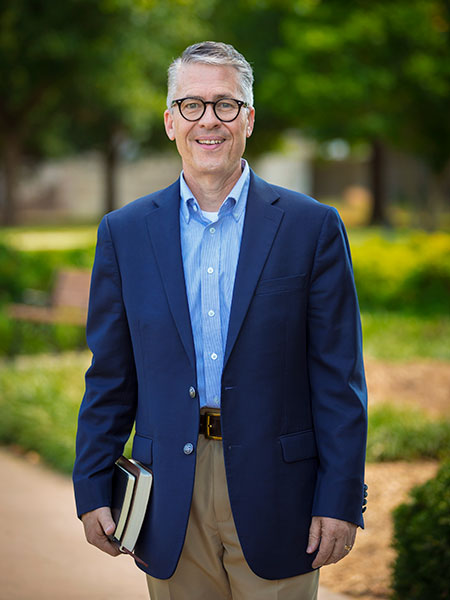 Welcome to OBU. You've chosen academic excellence and spiritual growth fully integrated into life by choosing OBU. Over the next four years, you will be challenged by academic rigors, sharpened through personal skill development, strengthened through physical training, and encouraged by life-long relationships. Each of these key elements of university life provide a platform for God's grace as He guides you into His full desire for your life through higher education. Here are answers to a few questions you may have about growing spiritually while at OBU:
How Can I Grow Spiritually While at OBU?
What Can I Expect?
What are the three primary arenas of ministry at OBU?
How can I get involved?
What is meant by the curricular approach?
Will I be required to purchase these texts?
When and where will I meet the upperclassmen mentors?

How can I grow spiritually while at OBU?

You may ask, "Since I'm at a Christian University, why do I need to focus on Spiritual Growth as well as my academic, social and physical goals?" Isn't it enough to just choose OBU?"

Would you expect to succeed in your chosen field of study without preparation outside the classroom? Would you expect to excel as a student academically without studying? In the same way, would you expect to grow spiritually without personal investment in the Bible or without a planned approach to worship, fellowship, or outreach?

You were created for good works in Jesus Christ. At OBU, we see no dividing line between what takes place in your academic endeavors, physical exercise, and your personal spiritual growth. It all works together.

At OBU, a support system is present to encourage you as you walk the road of discovery. The fully educated person learns to ask questions and to keep on asking. "Ask and keep on asking… seek and keep on seeking… knock and keep on knocking (Luke 11:9-10; Amplified Bible)." That is the heart cry of the Creator of the universe as He applauds your desire for faith and learning fully integrated together.

Along the way, you will have many mentors who will walk with you through your personal experience of faith integration. At first, you'll have upper classmen (peer mentors) assist you. Then, you'll discover the joyful role faculty members play in faith development. Administrators and staff members will also provide guidance and encouragement. The best guide you will have is the Holy Spirit as He guides you in involvement with and application of the Bible.

When Jesus spoke his departing words just before His ascension in Matthew 28, he promised, "I will never leave you nor forsake you." That promise is fulfilled in the presence of the Holy Spirit sent to guide, comfort, convict, and challenge you each step of the way.

So, don't quench the spirit, as Paul said in I Thessalonians 5:21. Take a moment now to speak a prayer to the Lord about your desire to be taught by Him during your days at OBU.
[Back to the top]

What can I expect?

OBU is built on a strong core liberal arts curriculum. Each field of study is built on this strong academic base. You can expect to be challenged spiritually outside the classroom through a curricular approach as well. The curricular approach will encourage, challenge, and guide you in a way that complements your academic pursuits at OBU. Therefore, you can expect to be challenged to engage with scripture personally through small groups, mentors, Chapel, Noonday, Canterbury, Men's and Women's ministry events, and a host of other opportunities prepared with you in mind.
[Back to the top]

What are the three primary arenas of ministry at OBU?
There are three primary arenas for spiritual growth which complement your academic pursuits. The three arenas are Worship, Community, and Outreach.
• Worship includes chapel, Canterbury, Fall Challenge, and other special events throughout the year.
• Community involves small groups. A small group is usually three to five students meeting together formally or informally during the semester. Small groups include bible studies, book studies, house fellowships, and specially designed discipleship groups. Larger community group experiences available include Noonday, SoulCon (men's ministry), Refuge (women's ministry), FCA, and special events throughout the year. A key component to community life at OBU is that of having a mentor. Be on the lookout for peer, faculty/staff, and local church mentors. The mentors will play important roles in your development spiritually.
•  Outreach is both local and global:
Local Outreach includes ongoing service projects in the immediate Shawnee and Oklahoma City area. Most of the projects have a weekly meeting for preparation and a weekly time of active service.
Global Outreach includes GO Trips (Global Outreach Trips) and International Studies.
[Back to the top]

How can I get involved?
These are the top 10 ways to get involved in spiritual development right away.
1. Look for your peer mentor(s) and walk with them through the formal and informal support they have prepared just for you. These mentors include but are not limited to your Welcome Week Worker (Tri-W), Resident Assistant (RA), and Spiritual Life Leaders during Welcome Week and Beyond.
2. Make sure to attend all FALL CHALLENGE. Fall Challenge is a series of chapel services prepared for the new student and returning students. It begins immediately following "The Walk" on Tuesday night of Welcome Week. A special guest speaker and gifted worship leaders help set the tone for the coming semester's abundant spiritual growth opportunities as you will be challenged and encouraged through scripture and worship in song.
3. Attend 'LIVE, Saturday Night' at OBU. This open and free special event will take place in Raley Chapel's Potter Auditorium on the first Saturday of the Fall semester. This year, the headline team is THE SKIT GUYS.
4. Join your classmates for lunch at NOONDAY the first Wednesday in September at noon, and each subsequent Wednesday. Local churches provide the food (which is free to you), and the Spiritual Life Staff will provide a brief life-impacting message.
5. Visit CANTERBURY (Worship Night) the first Thursday night in September and every other subsequent Thursday. This emerging generation styled service is fully student led with a unique touch that matches each new generation of students.
6. Check out an ONGOING LOCAL MINISTRY PROJECT during the first weeks of school. And, watch for Global Outreach (GO) Week early in September. GO Week will promote local and international opportunities for service and mission. But don't wait for GO Week! Ask the spiritual life staff and your peer mentors for direction in local and global outreach right away.
7. Sign up to attend MOMENTUM, a state-wide college student event in Oklahoma City the third Friday night in September. Momentum is a great way to meet college students in Baptist Collegiate Ministries on other campuses across Oklahoma. For more about MOMENTUM, go to the link HERE.
8. Apply for a GLOBAL OUTREACH TRIP and explore the possibilities. Watch for these opportunities during GLOBAL OUTREACH (GO) WEEK and go HERE to gather more information and apply.
9. Sign up to go on a VISION TRIP. Short term January and Spring Break Vision Trips are a great way to connect with peers and build relationships of depth in the context of gospel-centered city ministry. Other retreats to keep in mind are the Men's Ministry Retreat, the Ladies' Refuge Retreats in the Fall and Spring, and individual ministry related retreats.
10. Put in a request to join a GRACELIFE DISCIPLESHIP GROUP. GraceLife Discipleship groups will be led by faculty/staff mentors. You can express interest and gather more information by going to the link HERE.
[Back to the top]

What is meant by the curricular approach?

The primary text for spiritual growth is the Bible without exception. The Bible is our unfailing reference point. Secondary texts will also be used to encourage, challenge and guide you through discovery of God's personal desire for you. These will include contemporary authors and authors reaching back to the early church leaders. GraceLife Discipleship Series is an example of a secondary source that will encourage your personal spiritual development under the guidance of a faculty/staff mentor.
[Back to the top]

Will I be required to purchase these texts?
No, but you will be fully apprised of the presence of the books/materials and the important role they play in the development of the worship track, small group, or global outreach team. Watch for clarifications on this during your time on campus.
[Back to the top]

When and where will I meet the upperclassmen mentors?
Our goal is to help you find peer mentors who will encourage you in your transition to OBU and in your discovery of how to grow spiritually as a student at OBU.
You've already met the first wave of peer mentors. These are the Welcome Week Workers (affectionately known as Tri-W's). They spent, or will spend, the first four to five days with you as you get oriented to campus. Many of these Tri-W's will help form the second wave of peer mentors. The second wave includes small group peer leaders whom you will get to know in the dorms as you transition to college life. In addition to peer mentors, be looking for faculty/staff GRACELIFE DISCIPLESHIP GROUP mentors. A third and vital team of mentors will be found in local churches.
[Back to the top]

Dale Griffin
Assistant Vice-President for Spiritual Life
and Dean of the Chapel