Bison Pledge' Promises Four-Year Degree
December 13, 2010
In an age when more than half of college students earn their "four-year" degrees within six years, OBU is offering "The Bison Pledge" to help students save time and money -- and graduate as planned.

The Bison Pledge is a commitment that OBU will offer all required courses necessary for a student to complete an undergraduate degree and graduate with a single major within four years. It states that OBU will provide a qualified faculty advisor to assist each student in scheduling classes, keeping the student on track to graduate in four years. OBU also commits to provide academic support services to assist each student in successfully completing the chosen degree and graduating within four years.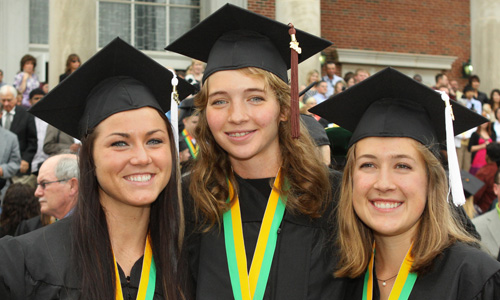 OBU graduates Amanda Acock, Jessica Herbert and Sarah Taylor celebrate receiving their degrees as part of OBU's Class of 2010. OBU has created The Bison Pledge as a commitment to help aspiring graduates complete their degrees in four years.



"One of the first questions a student should ask when comparing costs between colleges and universities is not, 'Do you offer scholarships?'" said Bruce Perkins, OBU director of admissions. "Rather, it is, 'What is your graduation rate?' Most schools offer scholarships and grants that are renewable for a maximum of eight semesters. What if it takes longer than four years for you to graduate? The scholarships and grants are gone, and you are paying out of your own pocket.

"We are so confident in our ability to graduate students in four years that we created The Bison Pledge," he said. "It is a contract between student and university. If the student does his or her part, we'll do ours. We'll get you out of college, into the work force or on to graduate school in four years -- saving you both time and money."

If a student keeps his or her part of The Bison Pledge and is unable to complete the degree within four years, OBU will provide the additional course(s) necessary to complete the degree at no tuition cost or offer acceptable substituted courses.

In return for OBU's commitment, students are asked to enroll in eight consecutive fall and spring semesters, along with the January Term of the freshman year. They must enroll in and successfully complete at least 32 hours per academic year, or the required hours as defined by the chosen degree plan.

To participate in the pledge, a student must declare a single major before beginning the third semester of study and must continue in the selected major throughout studies at OBU. The student must meet at least once per semester with an academic advisors and commit to making satisfactory academic progress through the course of study as defined by OBU's academic catalog.

For more information about The Bison Pledge, click here or contact OBU Admissions at (405) 878-2033 or by e-mail at admissions@okbu.edu.