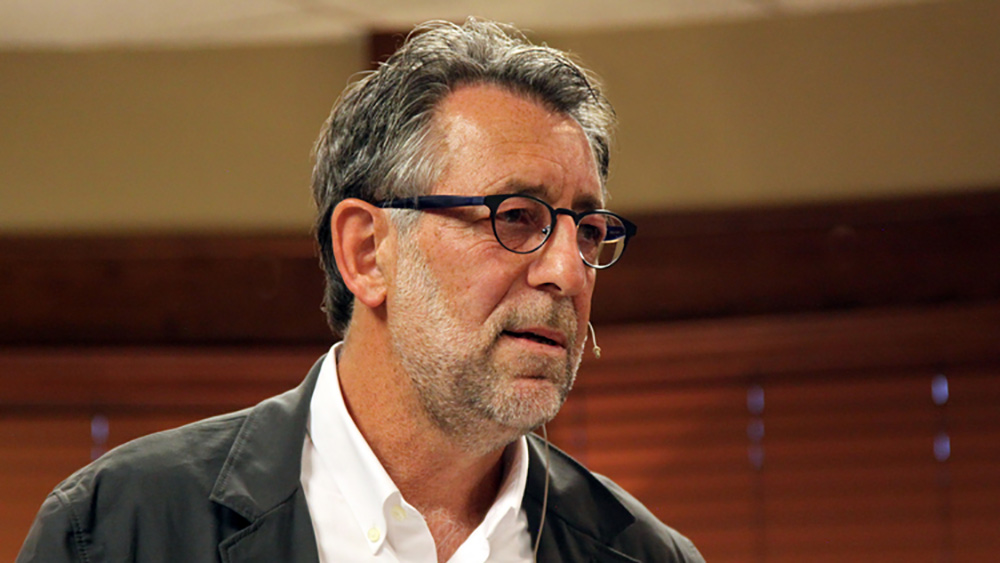 The opportunity to hear from and talk with important contemporary writers has been a part of an OBU education for many years. Since 2010, the English Department Reading Series has brought writers to campus, focusing on writers living in the area. The Visiting Writers Program started as a way to make the reading series more ambitious and to widen its appeal.
Tania Runyan visited campus in March 2016, as OBU's first visiting writer to read from her poems, lecture on writing poetry, and consult with students about their writing.
Upcoming Seminars
Scott Cairns, November 7-8
Poetry reading on November 7 at 7 p.m., Tulsa Royalties Auditorium (Bailey Business Center)
Masterclass over writing memoir on November 8 at 7 p.m., Tulsa Royalties Auditorium (Bailey Business Center)
Attendees do not need to register or RSVP. All are welcome.
About Scott Cairns:
Librettist, essayist, translator, and author of eight poetry collections, Scott Cairns is Curators' Distinguished Professor of English at University of Missouri, and Director of the Low-Residency MFA Program at Seattle Pacific University. His poems and essays have appeared in Poetry, Image, Paris Review, The Atlantic Monthly, The New Republic, Plume, etc., and both have been anthologized in multiple editions of Best American Spiritual Writing. He blogs for the Religion Section of The Huffington Post. His recent books include Slow Pilgrim: The Collected Poems (2015), Idiot Psalms (2014), Short Trip to the Edge (spiritual memoir, 2016), Endless Life (translations and adaptations of Christian mystics, 2014), and a book-length essay, The End of Suffering (2009). He received a Guggenheim Fellowship in 2006, and the Denise Levertov Award in 2014. His new projects include Descent to the Heart, verse adaptations of selections from the writings of Saint Isaak of Syria, and a new poetry collection, Anaphora.
Interested in helping support the Visiting Writer Seminars?
Money is being raised through the Advancement office to bring excellent writers to OBU's campus. Potential donors can email 
advancement@okbu.edu
 or call 405-585-5412.