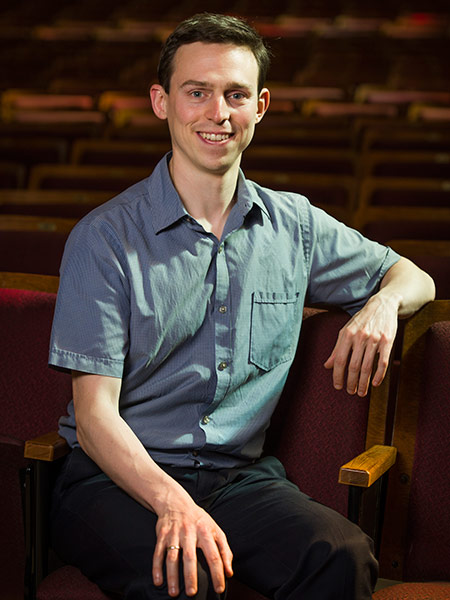 Dr. Benjamin Shute
Assistant Professor of Music
Director of Preparatory Department
Biography
Violinist Benjamin Shute has enjoyed a diverse performing career on modern and period instruments in the States and abroad. Following his debut with Stephen Gunzenhauser and the Delaware Symphony, he has collaborated as soloist with orchestras internationally in concertos from the seventeenth to twentieth centuries. Orchestral activities include serving as concertmaster of the Boston Chamber Orchestra and cofounding concertmaster-director of the New England Conservatory Early Music Society. As a chamber musician, he has taught at festivals in the States, Europe, and Asia and collaborated with artists including Stephanie Chase, Anne Martindale Williams, Robert Hill, and faculty members of such institutions as the New England Conservatory, Boston Conservatory, Peabody Institute, Boston University, and the conservatories of Zürich, Bern, Trossingen, and Cagliari. He performs regularly on baroque violin with harpsichordist Anastasia Abu Bakar as t he Highlands Duo.
His principal teachers include Rainer Kussmaul (first concertmaster, Berliner Philharmoniker), Bernhard Forck (concertmaster, Akademie für Alte Musik Berlin), Masuko Ushioda, Lucy Chapman, and Lee Snyder. Other important influences have come from Robert Hill, Yair Kless, Eduard Schmieder, and members of the Cleveland, Hagen, Borromeo, Rubin, and Axelrod quartets. 
Formerly on faculty at Dickinson College and Cairn University, he joined the OBU faculty in fall 2016.
Education
B.M., New England Conservatory

K.A. Diplom, Hochschule für Musik Freiburg

D.M.A., New England Conservatory
Courses Taught
Applied Violin

Introduction to College Theory

Chamber Music 

String Techniques 

Theory II
Selected Publications
Benjamin Shute, Sei Solo: Symbolum? The Theology of J. S. Bach's Solo Violin Works (Eugene, OR: Pickwick, 2016).
Critical editions:
J. S. Bach, Concerto in D minor for violin, strings, and continuo (BWV 1052R), reconstructed by Benjamin Shute (Albany, CA: PRB Productions, 2017).
J. S. Bach, Sinfonia in D major (BWV 1045), completed by Benjamin Shute (Albany, CA: PRB Productions, 2017).