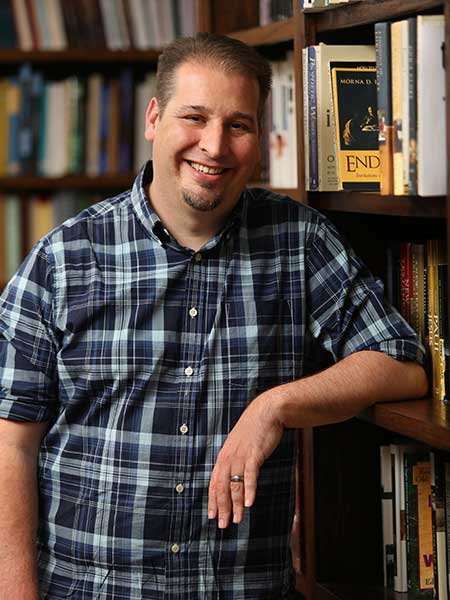 Dr. Alan Bandy
Rowena R. Strickland Associate Professor of New Testament
| | |
| --- | --- |
| Office Location | Montgomery Hall, 211 |
| Phone (Office) | 405.585.4431 |
| OBU Mailbox # | 61162 |
| Email | alan.bandy@okbu.edu |
Biography
Dr. Alan S. Bandy joined the College of Theology and Ministry faculty as the Rowena R. Strickland Professorship in New Testament / assistant professor of New Testament in the fall of 2009. Before arriving at OBU, Bandy served as assistant director of Ph.D. studies for Southeastern Baptist Theological Seminary. Prior to that he was an assistant professor of Christian Studies at Louisiana College and taught adjunctively for Liberty University Online.
His area of expertise is the New Testament and Greek with a specialization in The Apocalypse of John. He completed his Ph.D. in Biblical Studies from SEBTS under the supervision of Andreas J. Köstenberger in May 2007. He published his dissertation as The Prophetic Lawsuit in the Book of Revelation in the New Testament Monograph Series by Sheffield Phoenix Press (May 2010). He also contributed some sections in God, Marriage, and Family: Rebuilding the Biblical Foundation, by Andreas J. Köstenberger and David W. Jones (Wheaton, IL: Crossway, 2004); the chapter on the Book of Revelation in The Cradle, the Cross, and the Crown: A Comprehensive Introduction to the New Testament, by Andreas Köstenberger, Scott Kellum, and Charles Quarles (Nashville: Broadman & Holman, 2009); and the chapter on interpreting the Book of Revelation in Invitation to Biblical Interpretation, by Andreas Köstenberger and Richard Patterson (Grand Rapids: Kregel, 2011).
In additional to this, Bandy has published several articles in various journals, such as Journal of New Testament Studies, Neotestamentica and The Southern Baptist Journal of Theology.
He is currently one of the contributing authors of the Biblical Theology of the New Testament Series published by Zondervan as co-author of the volume on the Theology of the Book of Revelation (forthcoming 2016). He is also writing a biblical theology of prophecy with Benjamin Merkle for Kregel.
Bandy has been actively involved in church ministry since 1992, holding positions including senior pastor, associate pastor and student pastor in churches in North Carolina, Memphis, TN and Kentucky. He has spoken and presented papers in numerous academic and ministry conferences. He is currently serving as interim pastor of Bethel Baptist Church in Norman, OK.
He is passionately committed to the Great Commission and regularly leads OBU students on GO Trips to the Peruvian and Brazilian Amazon to work with people groups in the jungle. He has traveled to Manus, Rio de Janeiro, Curitiba and Belo Horizante in Brazil on mission trips and lectured at a seminary in Cameroon Africa.
Dr. Bandy and his wife, Necoe, have five children. 
Education
B.A., Clear Creek Baptist Bible College
M.Div., Mid-America Baptist Theological Seminary
Ph.D., Southeastern Baptist Theological Seminary
Courses Taught
REL 1013: Old Testament History & Lit
REL 1023: New Testament History & Lit
REL 3903: Intermediate Greek I
Selected Publications
"How to Ask for Wisdom" and "The One who Is, Was, and Is to Come," in Devotions from the Greek. Edited by J. Scott Duvall (Grand Rapids: Zondervan, forthcoming).
"Patterns of Prophetic Lawsuits in the Oracles to the Seven Churches in the Book of Revelation" Neotestamentica 45.2 (November 2011).
The Prophetic Lawsuit in the Book of Revelation. Sheffield New Testament Monograph Series 29 (Sheffield Phoenix Press, 2010).
"The Hermeneutics of Symbolism: How to Interpret the Symbols of John's Apocalypse." Southern Baptist Journal of Theology 14 (Spring 2010): 46-58.
"The Layers of the Apocalypse: A Holistic Approach to Revelation's Structure: Journal for the Study of the New Testament." 31.4 (June 2009).
"Words and Witness: An Analysis of the Lawsuit Motif in Revelation Based on Witness Terminology." Global Journal of Classical Theology 6.1 (2005).
"Eschatology and Restoration: An Assessment of the Relationship between Theology and Eschatology in the Writings of N.T. Wright." Faith and Mission 22.2 (Spring 2005).