Congratulations! You've been admitted to Oklahoma Baptist University and have secured your spot in the incoming freshman class. We're excited to see you on campus for Welcome Week and show you all of the amazing things that come with being a Bison. From the numerous opportunities available to get involved on campus to our world-class academics and professors, we have no doubt that your time at OBU will be some of the best years of your life.
Making the transition from high school to college can be an exciting time, but it can also be overwhelming. To help ensure your transition into college life is as smooth as possible, we've put together some tips to help you prepare during the summer before your freshman year.
Take Steps to Prepare Financially
At OBU, we're delighted to be able to offer each incoming freshman a guaranteed scholarship of $10,000 or more per year to go toward their tuition, in addition to many other scholarships and grants that are awarded based on need and academic achievement.
There are also many other opportunities for funding your college experience. Take the time to research outside scholarships,  loan options, look into applying for a part-time student job on campus or explore the SmartGuide to see what options there are in terms of financial aid. 
It's also a good idea to establish a budget for yourself as you enter into independent life away from home. It can be easy to lose track of how much you're spending on food, coffee and other expenses, so setting limits for yourself for monthly spending can be a great way to keep your finances in check.
If you've taken concurrent, dual-enrollment, or AP classes, you can check out our free transfer credit evaluation tool. This tool will allow you to see how the credits you've already earned will be granted at OBU and what your degree plan and timeline looks like at OBU. Because you've worked ahead this could save you time in your degree at OBU, which will save you money and get you into a job sooner. It could also allow you flexibility to pursue a double major or a minor.
An easy way to save money on food is by signing up for the OBU Life Style Dining Program. Our meal plans range from unlimited cafeteria access to a limited plan for students living in apartments, allowing you to choose the option that best fits your lifestyle.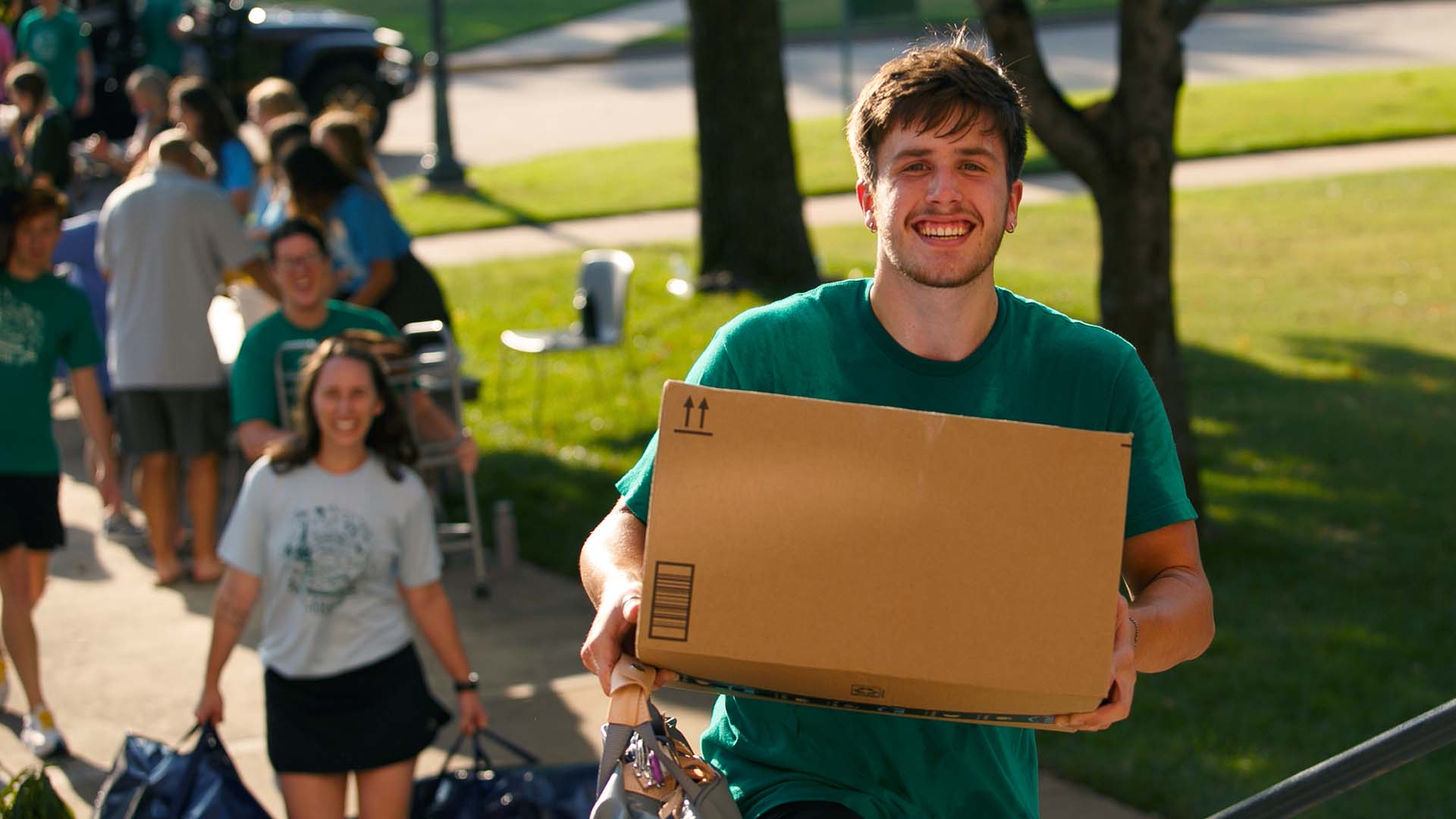 Don't Forget to Pack! 
If you'll be living in an OBU residence center make sure you have everything you need in terms of school supplies and bedroom accessories. To help make sure you don't forget the essentials such as bedding and an umbrella (for walking to class in those Oklahoma storms), we've compiled a handy college packing checklist. You can also find information on items prohibited in the dormitories. Make sure to review both before arriving on campus to set yourself up for an easy move-in day.
Packing Tips
Don't bring all of the clothes from your closet at home. You most likely won't have room for all your clothes, so plan on bringing only the essentials and season appropriate attire. You can always switch out your shorts and flip flops for sweaters and snow boots when temperatures get cooler.
Check with your roommate when purchasing items for your dorm. Split up the shopping/packing list so that you don't end up with two TVs and two coffee makers.
Don't forget school supplies. You're no longer in high school, but that doesn't mean you won't need staplers, binders, pencil sharpeners, notebooks or a calculator. Once you know which classes you'll be taking, make sure you have all of the supplies you need for each class. A personal printer may also be a good idea if you don't want to rely on public ones.
Bring cleaning products. You'll want to keep your room nice and tidy in order to maintain a healthy environment for living and studying. Make sure to pack some paper towels, dish soap, cleaning sprays, air fresheners, and even a small hand-held vacuum to clean up messes.
Get organized with plenty of storage. Under-bed storage units are perfect for storing extra clothes and shoes, while shelf and desk organizers work great for keeping your classwork organized and easily accessible.
Think double when it comes to sheets and towels. It's a good idea to bring two sets of sheets and towels so that you always have a backup when doing laundry. Especially if the dorm washer and dryers happen to be full at the moment.
Pack items that remind you of home. Don't forget to bring a little piece of home with you to college. Pictures of your friends and family or memorabilia from your hometown can make your dorm room feel much cozier.
Get Excited About Being an OBU Bison
Are you ready for life at OBU? Here are a few things you can do to get into the Bison mindset over the summer!
Put Welcome Week on your calendar.
You definitely won't want to miss your opportunity to meet your future classmates, learn about OBU traditions, participate in fun activities and get everything you'll need for your first day of class.
Get your official Green and Gold OBU gear.
Visit the OBU Campus Store online or in-person to stock up on your Bison merchandise.
Visit campus if you haven't already.
If you haven't visited our campus, now is the perfect time to make the trip to Shawnee and see where you'll be spending the next four years.
Research student organizations you may be interested in.
Hoping to get involved with a student organization or other on-campus activities? Do some research now so that you can seek out certain groups when you get to campus in the fall. You'll also have the opportunity to meet student organization representatives in-person at the Un Cuerpo organization fair in August.
Learn the Alma Mater and Ka-Rip!
Although we'll teach you the alma mater and Ka-Rip! during Welcome Week, it doesn't hurt to start practicing now so that you look like a pro when it's time to show your school spirit.
Connect with OBU on Social Media
Follow us on social media to stay up-to-date on all things OBU, connect with other incoming freshmen and tell us why you're excited to be a #OBUBison!
Oklahoma Baptist University
Follow us for current news and OBU happenings. Who knows? Maybe you'll see yourself one day!
 /OklahomaBaptistUniversity  @obunews  @obunews
OBU Housing & Dining
Planning to live and eat on campus? The Residential Life Staff regularly provides updates on events and other important information.
 OBU Housing & Dining   @reslifeobu    @ResLifeOBU
OBU Student Life
Stay in the know about student life at OBU.
 OBU Student Life   @obustudentlife   @OBUStudentLife
OBU Student Financial Services
The Student Financial Services team is here to help you finance your OBU education.
 OBU Student Financial Services
Freshman Class
Each freshman class creates their own Facebook group to stay connected during the summer and after classes begin. Do a quick search and find your "Oklahoma Baptist University Class of" group!