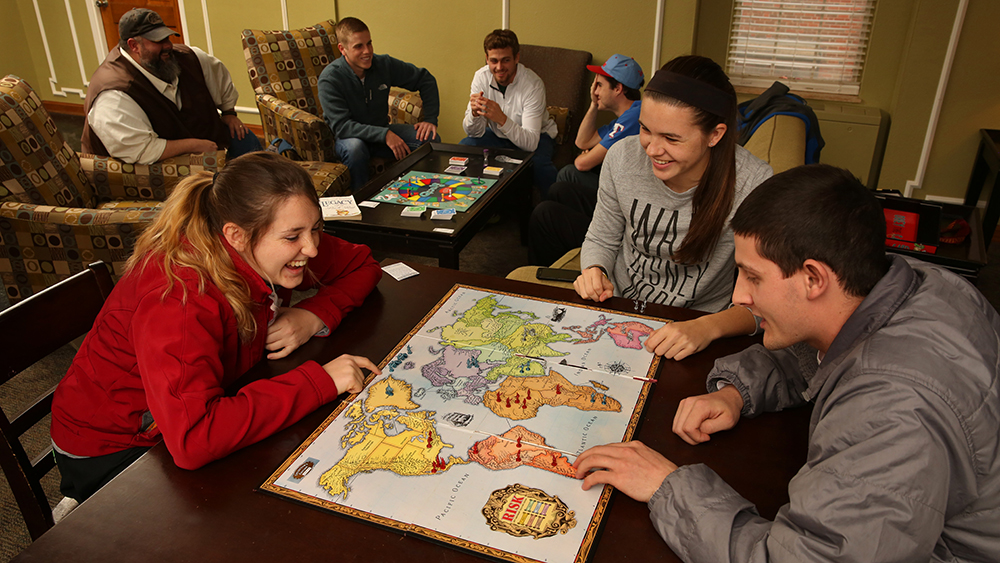 Follow the hashtag #jtermbucketlist on social media for upcoming events.
Hours of Operation
RAWC Hours:
Café Hours:
Weekdays:         5:45 a.m. – 9 p.m.                                                          Lunch:           11 a.m. – 1 p.m.

Saturdays:           8 a.m. – 6 p.m.                                                             Dinner:           4:30 p.m. – 6:30 p.m.

Sundays:              2 p.m. – 6 p.m.
The Gathering in Montgomery Hall:
Weekdays:         9 a.m. – 5 p.m.
J-Term Schedule
Women's Basketball in Noble @ 5:30p

Men's Basketball in Noble @ 7:30p
J-term Bucket List Competition in GC Lobby @ 4p
Want a chance to win $250! 

Create a team of 3-5 students and sign up in the GC Lobby at 4pm

TOMORROW (Friday, 1/5)

. Entrance fee is $20 - bring cash. You will be competing to gain the most points by visiting and attending various events or locations at OBU, in Shawnee, and OKC.  The competition is completed on 1/25 at the Donut Study Break 7p.
Wally Ball Tournament in RAWC @ 6p
Women's Basketball in Noble @ 1p

Men's Basketball in Noble @ 3p
"Spades" Tournament in The Gathering (Montgomery Hall) @ 4p

"Spoons" Tournament in The Gathering (Montgomery Hall) @ 6p

"Jungle Pong" in GC Lobby @ 7p
"4 Square" in the RAWC @ 4p

"Gotcha" in the RAWC @ 6p

"Discipleship" – Chapel Credit in The Gathering (Montgomery Hall) @ 7p
9 Ball Tournament in Agee @ 8p
Women's Basketball in Noble @ 5:30p

Men's Basketball in Noble @ 7:30p

"Spades" Finals in The Gathering (Montgomery Hall) @ 6p
Martin Luther King Jr. Day

No Class/Offices Closed

Oklahoma City MLK Parade @ 2p

Silent March in honor of MLK @ 9a
at Freedom Center - 2609 N. Martin Luther King Ave., Oklahoma City
 St. Paul's Episcopal Cathedral, 127 NW 7th, OKC  
"Worship" – Chapel Credit in The Gathering (Montgomery Hall) @ 7p
Women's Basketball in Noble @ 5:30p

Men's Basketball in Noble @ 7:30p
Retro Skate Night (Free) @ 11p-1a - Shawnee Star Skate
Women's Basketball in Noble @ 1p

Men's Basketball in Noble @ 3p
"Missions" – Chapel Credit in The Gathering (Montgomery Hall) @ 7p
Donut Study Break in GC Lobby @ 7p

J-Term Bucket List Competition ends today
J-term Finals
Go Retreat @ 5:30 – 9p
GO Retreat @ 8:30 – 3p
Dorms/Apt open for Spring Semester @ 1pm